Aaron Scheer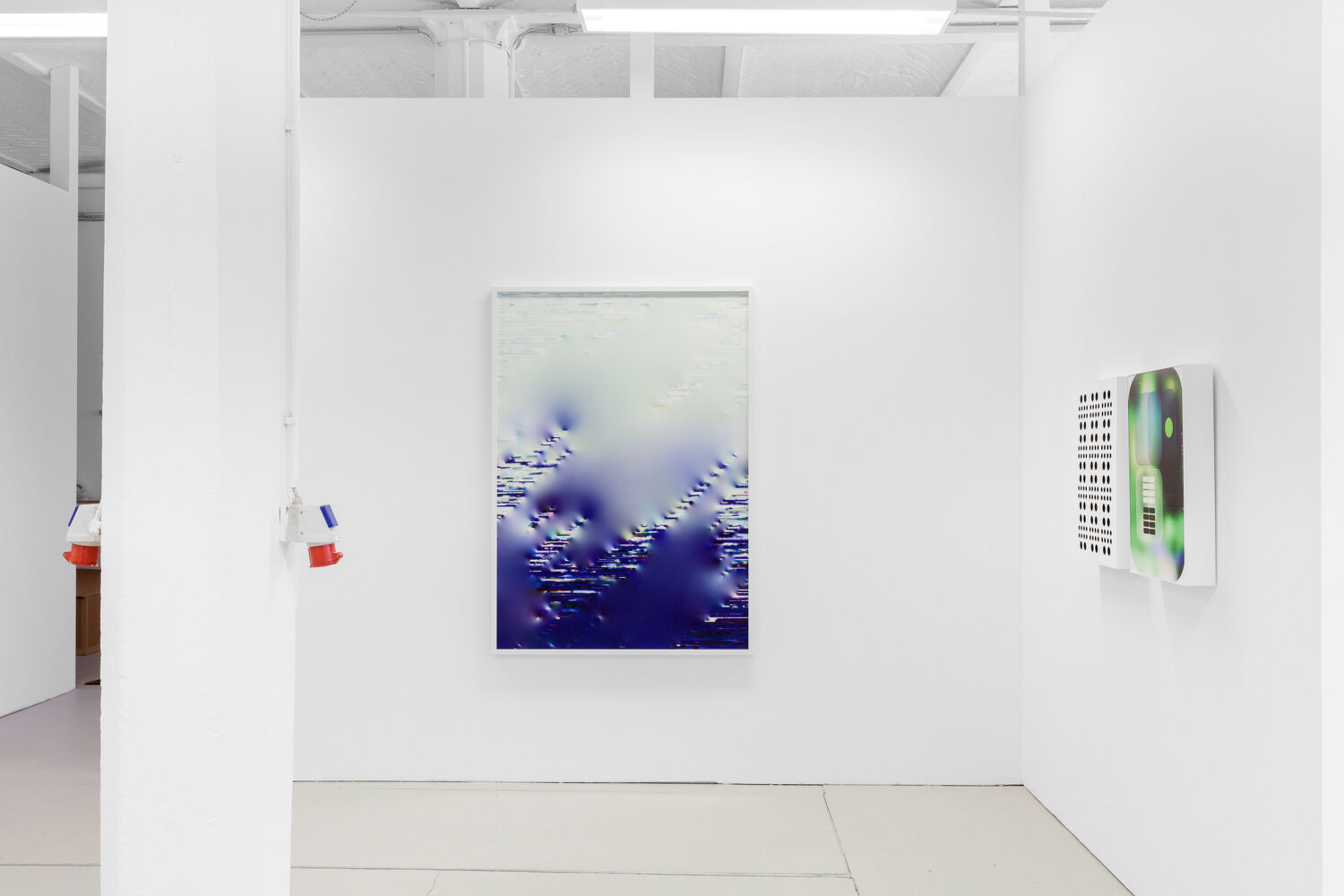 Aaron Scheer (*1990) is a Berlin-based artist, known for utilizing the digital realm to expand what painting can be and mean today by combining elements of photography, collage and painterly technique. Scheer's work has been widely shown internationally at, among others, Museum of Contemporary Digital Art (MoCDA), The Wrong Biennale, KÖNIG GALERIE, Boros Foundation, Annka Kultys Gallery, OFFICE IMPART, Sunday Art Fair, Art Brussels, isthisit or Offsite Project. His works are part of notable collections such as Sammlung Wemhöner and Kunstmuseum Bonn. He is part of the international art collective darktaxa. Find more information about the artist here.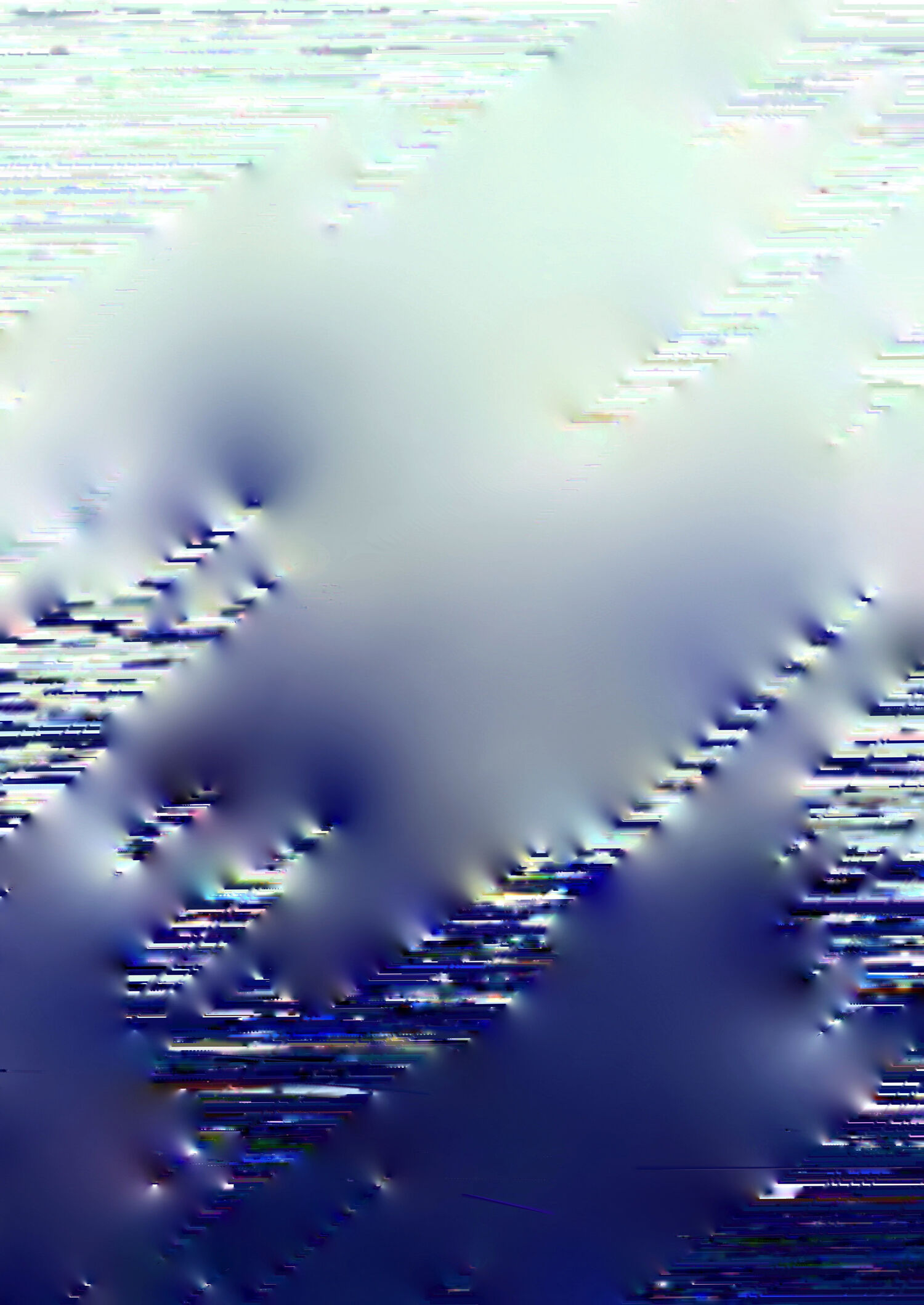 Aaron Scheer
DaNA XXIII, 2022
DaNA XXIII, 2022
Pigment ink on archival paper
173 x 123 cm (framed)
Unique: 1/1, 1 AP 7.500,00 EUR (incl. VAT)
inquire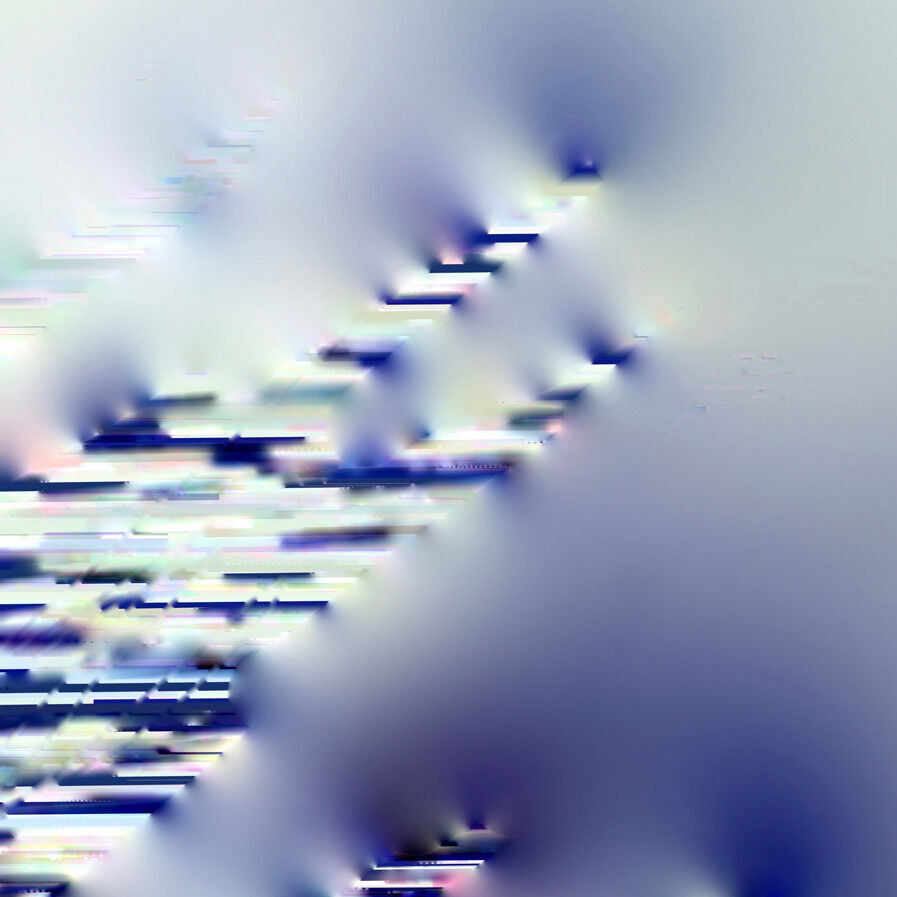 "One is inclined to misunderstand Scheer's work. His compositions tempt one to look for traces of image processing software or AI. Yet almost all of them are based on a white JPG. Like a white canvas: at the beginning a line, a block of color, drawn by hand, a classic image composition. Scheer works without a design. He runs his material through various programs – Photoshop, Mac Preview, Figma, Illustrator. Layer by layer. The status quo is exported as a JPG, no edit file cached. Each command S – a state to which he must respond."
Aaron Scheer
DaNA XXIV, 2022
Pigment ink on archival paper
173 x 123 cm
Unique: 1/1, 1 AP 7.500,00 EUR (incl. VAT)
inquire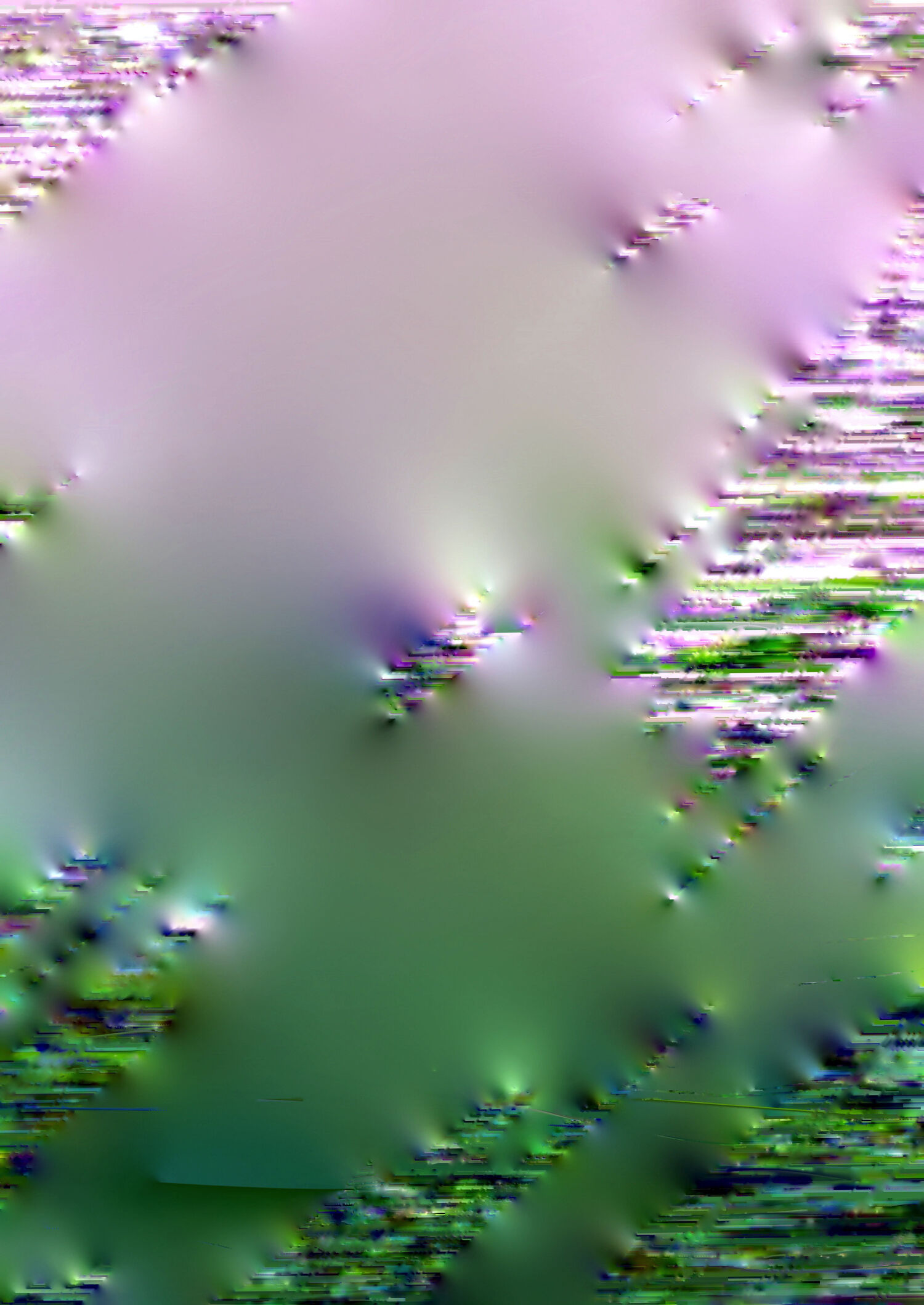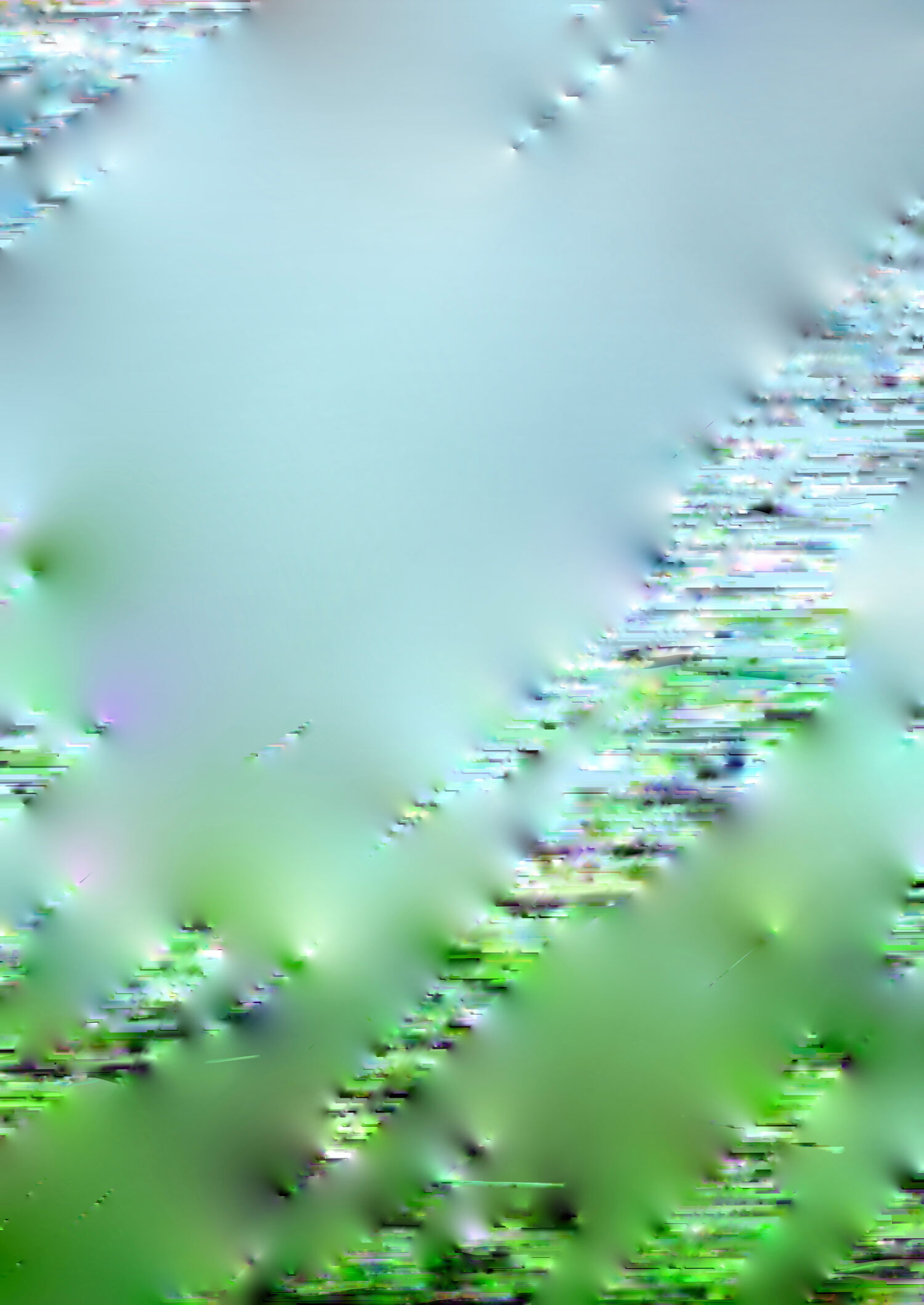 Aaron Scheer
DaNA XVI, 2020
Pigment ink on archival paper
120 x 86 cm, framed
Unique: 1/1, 1 AP 5.200,00 EUR (incl. VAT)
inquire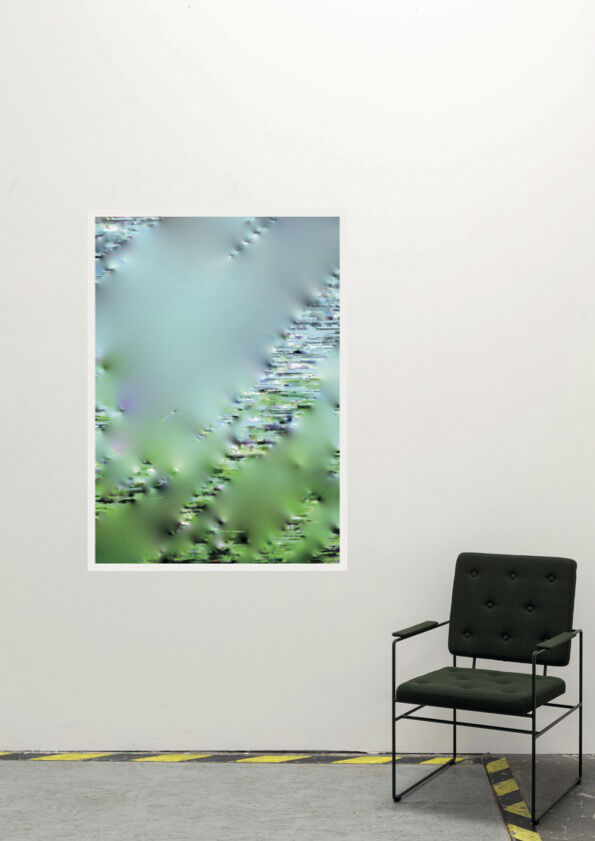 Aaron Scheer
Y2022-M04-D20 11.37.43
pigment ink on archival paper, cardboard
65 x 47 x 10 cm 5.200,00 EUR (incl. VAT)
inquire
Scheer's unboxing pieces play with the neo-capitalist wow-effect of emotionally charged products that go way beyond their functionality. While placing themselves in the tradition of a medium old as art history itself: sculptures. One of the latest adventures Scheer has set out to.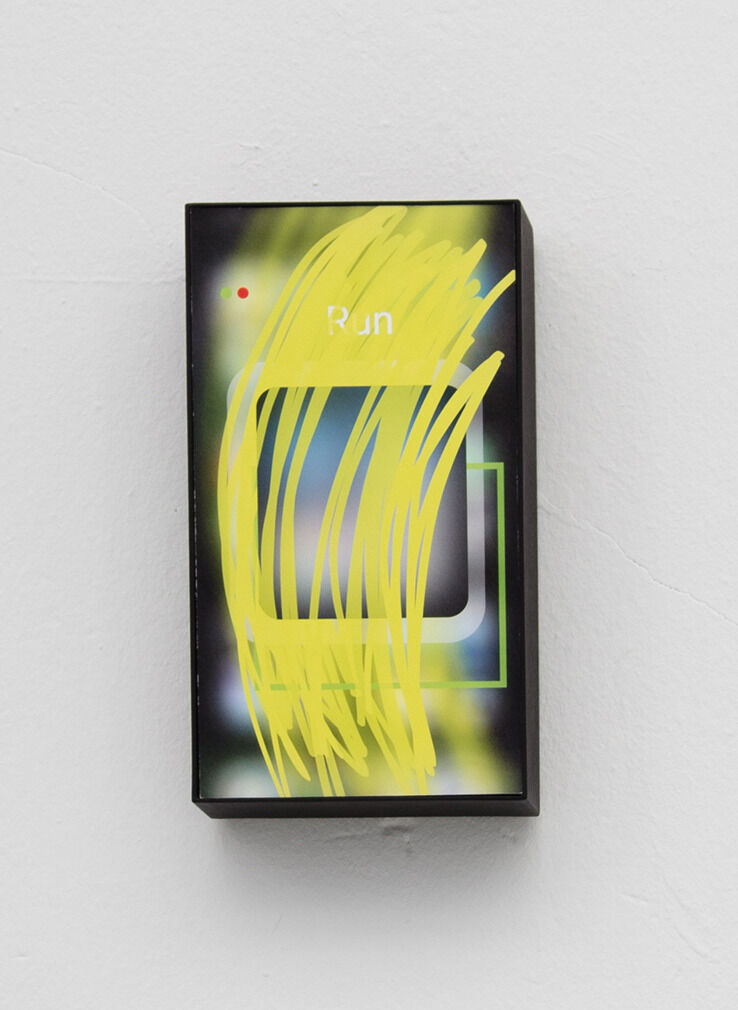 Without the physical object, viral videos of people unboxing the latest tech, and all sorts of other fetishized products, wouldn't exist. Without the physical world, the digital can't exist and vice versa. A duality that is omnipresent in Scheer's work. With his new series, he ventures out once again to explore a more sculptural approach to his work. Interfaces that we encounter every day from browsing websites and phones build the inside of what Scheer reveals in a micro-performative act. Elements from the UX and UI world form a composition, at times reminding us of Picassoesque humanoid characters. Seemingly wanting to tell us something with their hidden messages: Control, escape, run.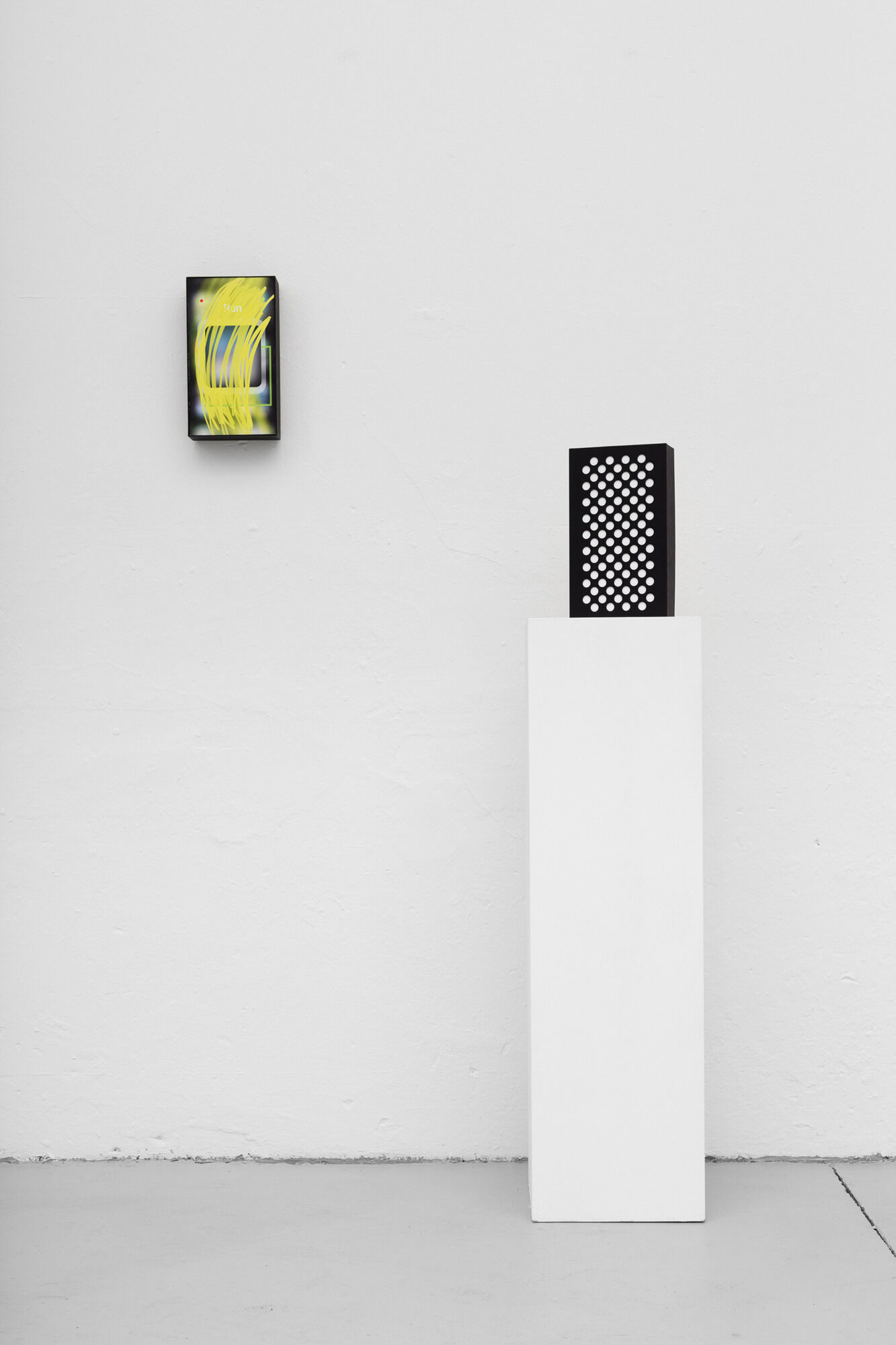 Aaron Scheer
Y2022-M04-D20 11.30.16, 2022
pigment ink on archival paper, cardboard
30 x 17 x 10 cm 2.800,00 EUR (incl. VAT)
inquire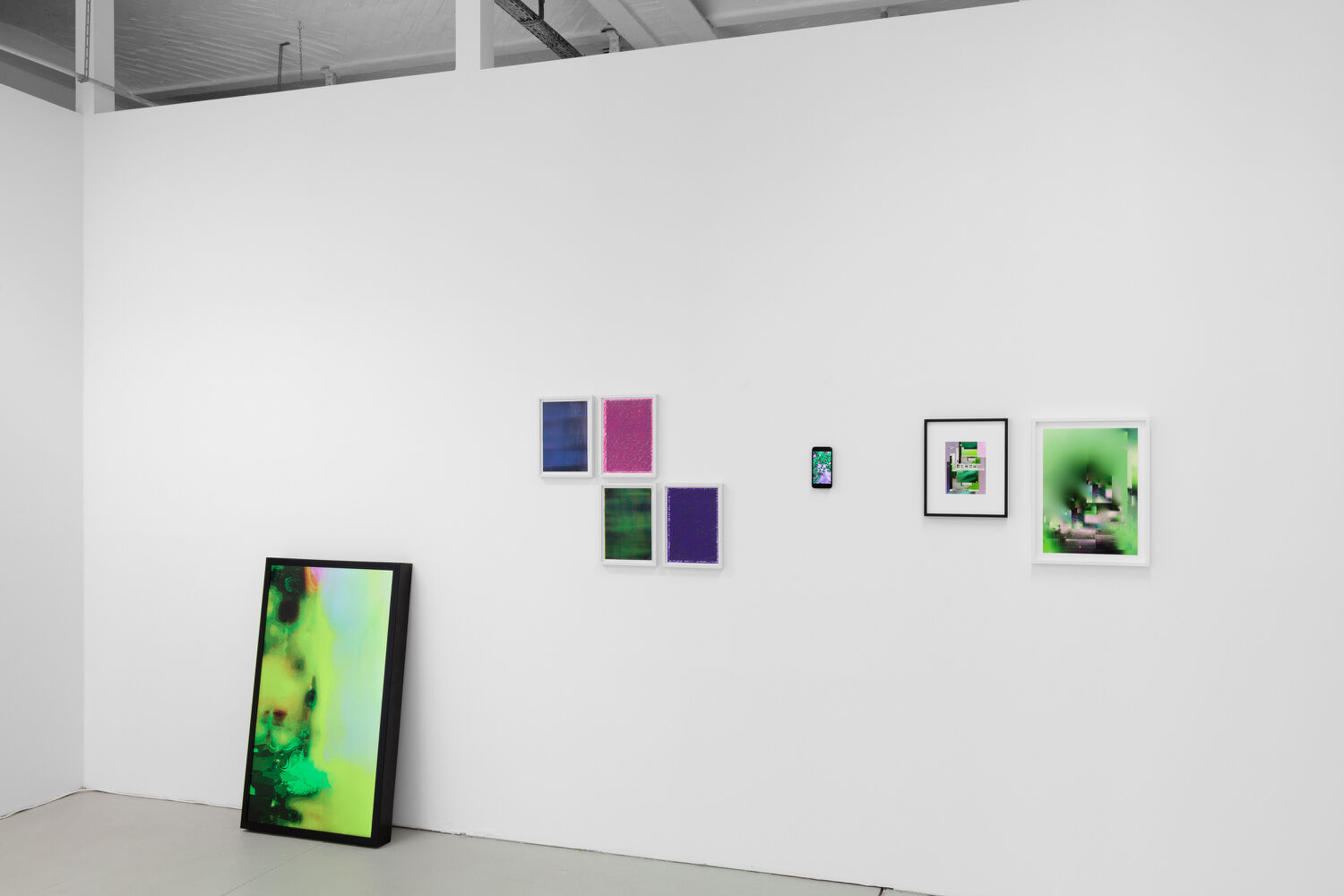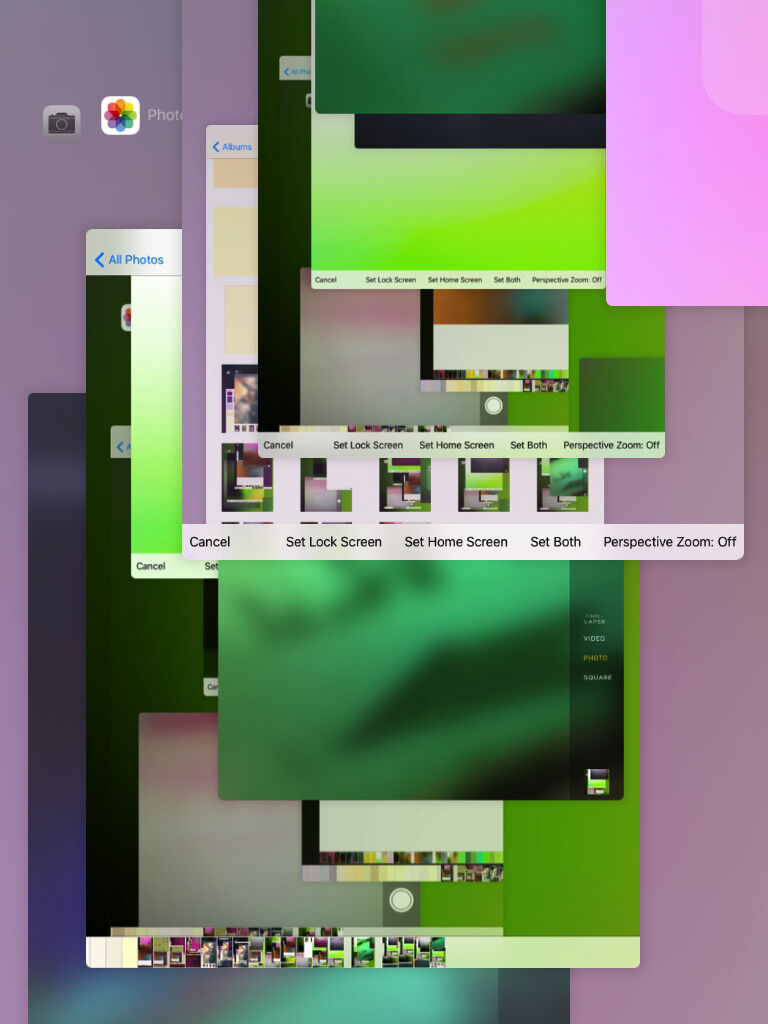 Aaron Scheer
Set Lock Screen, 2022
Pigment ink on archival paper
36 x 30 cm, framed
Unique: 1/1, 1 AP 1.200,00 EUR (incl. VAT)
inquire
"It's 2020 and Aaron Scheer wants to know. To know what the Internet thinks about him. So he asks Google. He uploads a work via reverse image search, and the algorithm shows him similar images. Scheer struggles with abstraction. Before anyone interprets a cloud into his work, he lets the machine lay it out: _Color technology art Images – Search. Titel done!"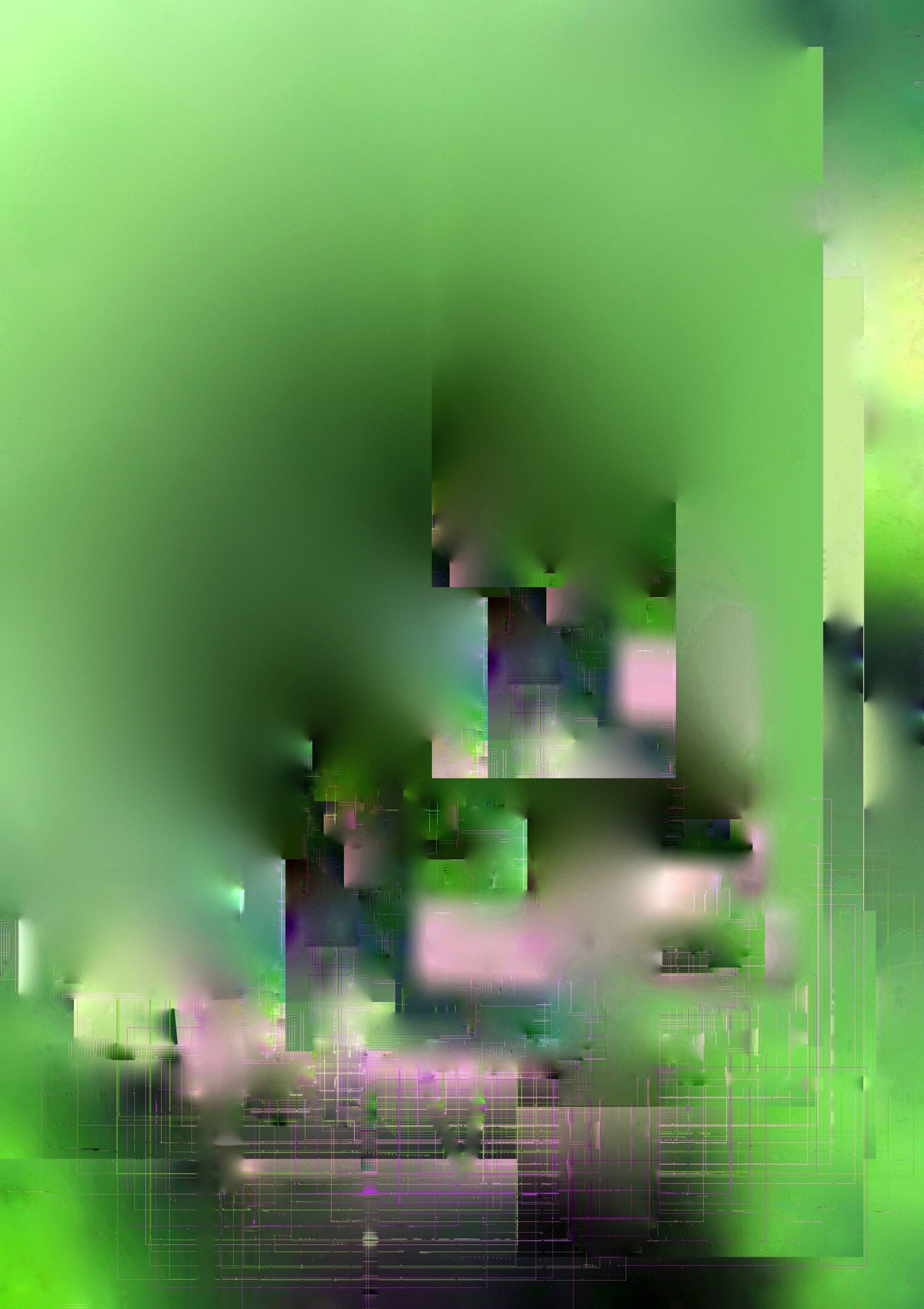 Aaron Scheer
Color technology art Images, 2021
Pigment ink on archival paper
(gerahmt)
44 x 31 cm (framed 50 x 37 cm)
Unique: 1/1, 1 AP 2.400,00 EUR (incl. VAT)
inquire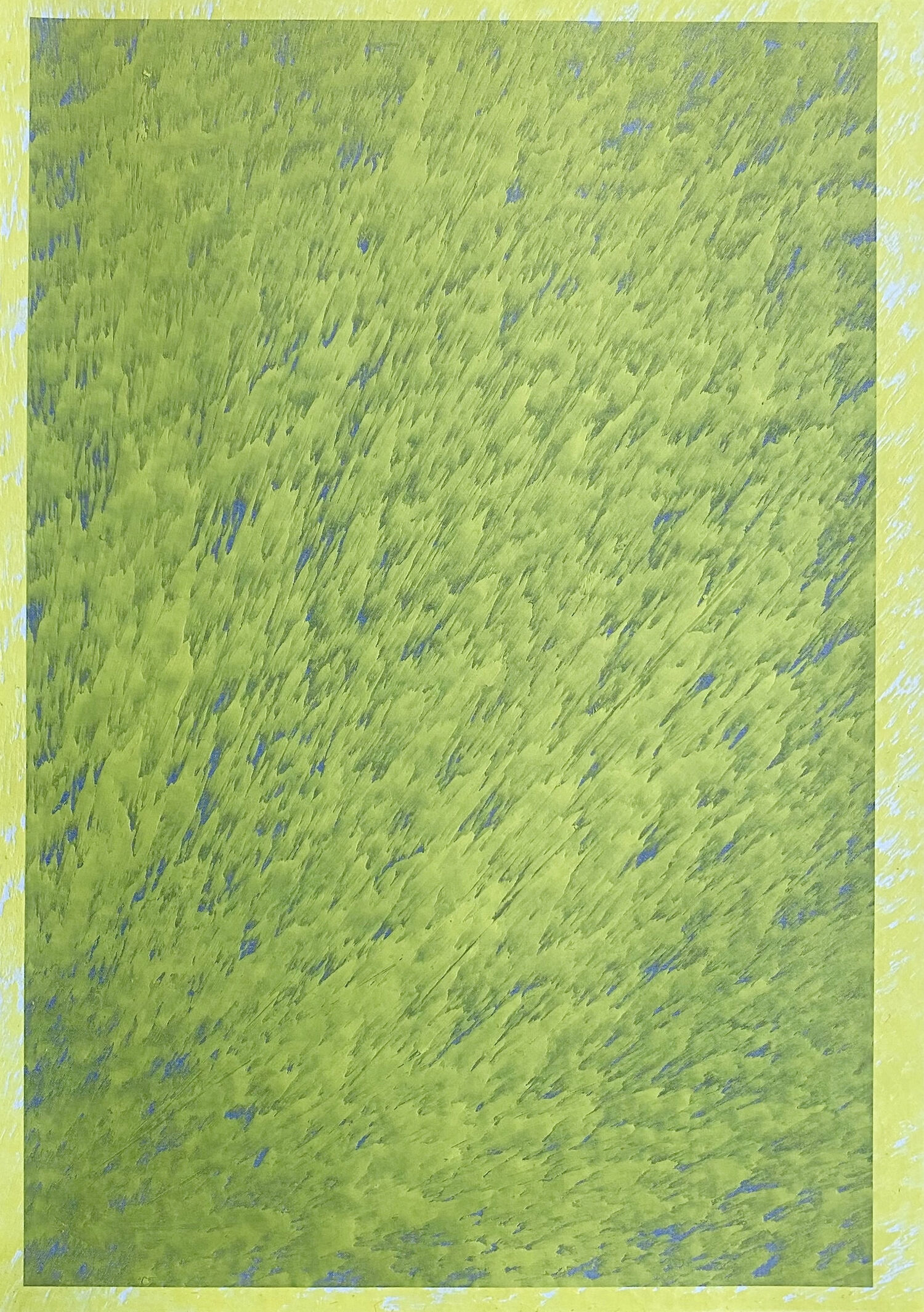 Aaron Scheer
Analog vs. Digital (unnumbered), 2022
Oil on crayon, Ink on Paper
30 x 21 cm 800,00 EUR (incl. VAT)
inquire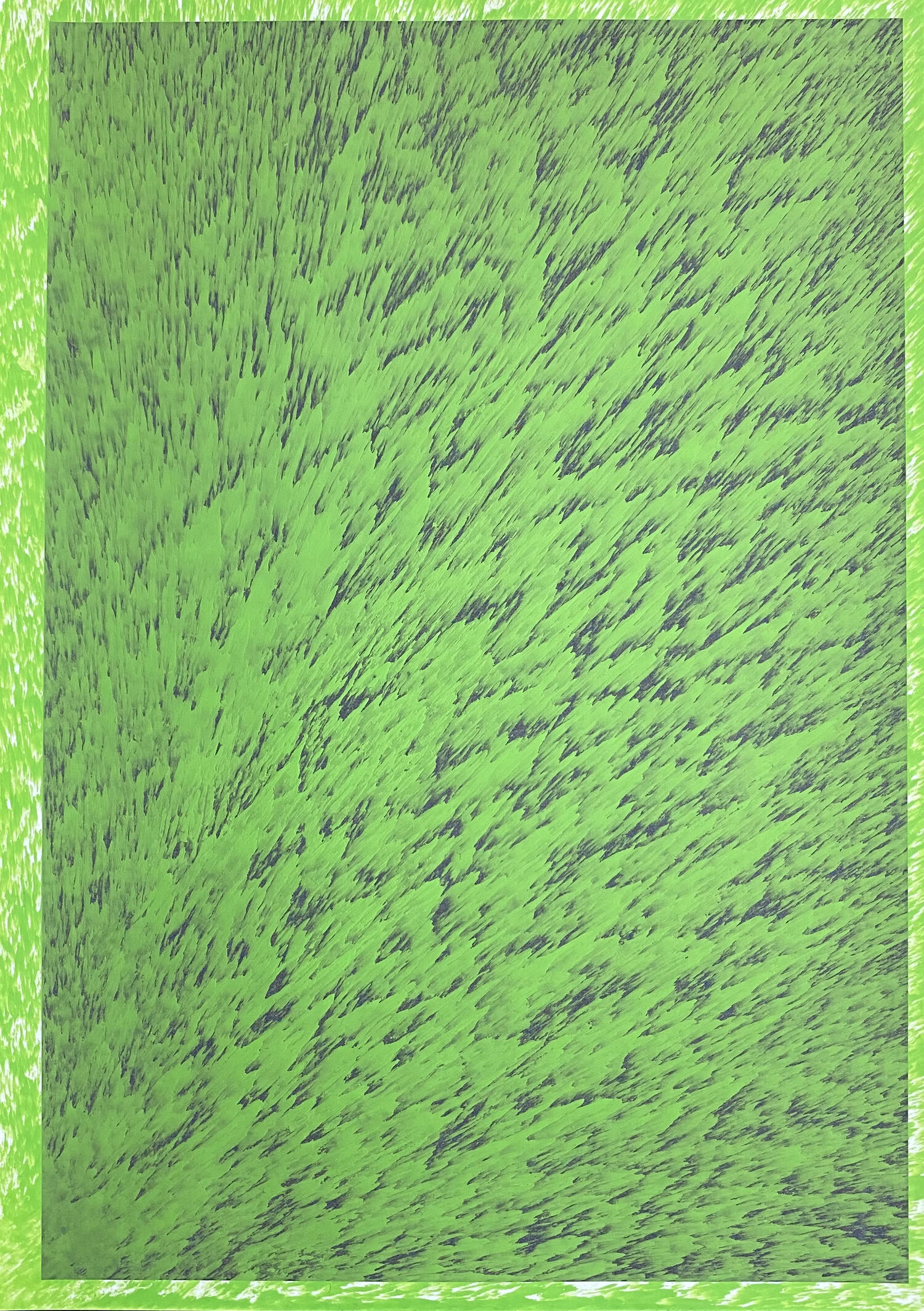 Aaron Scheer
Analog vs. Digital (unnumbered), 2022
Oil crayon, Ink on Paper
30 x 21 cm 800,00 EUR (incl. VAT)
inquire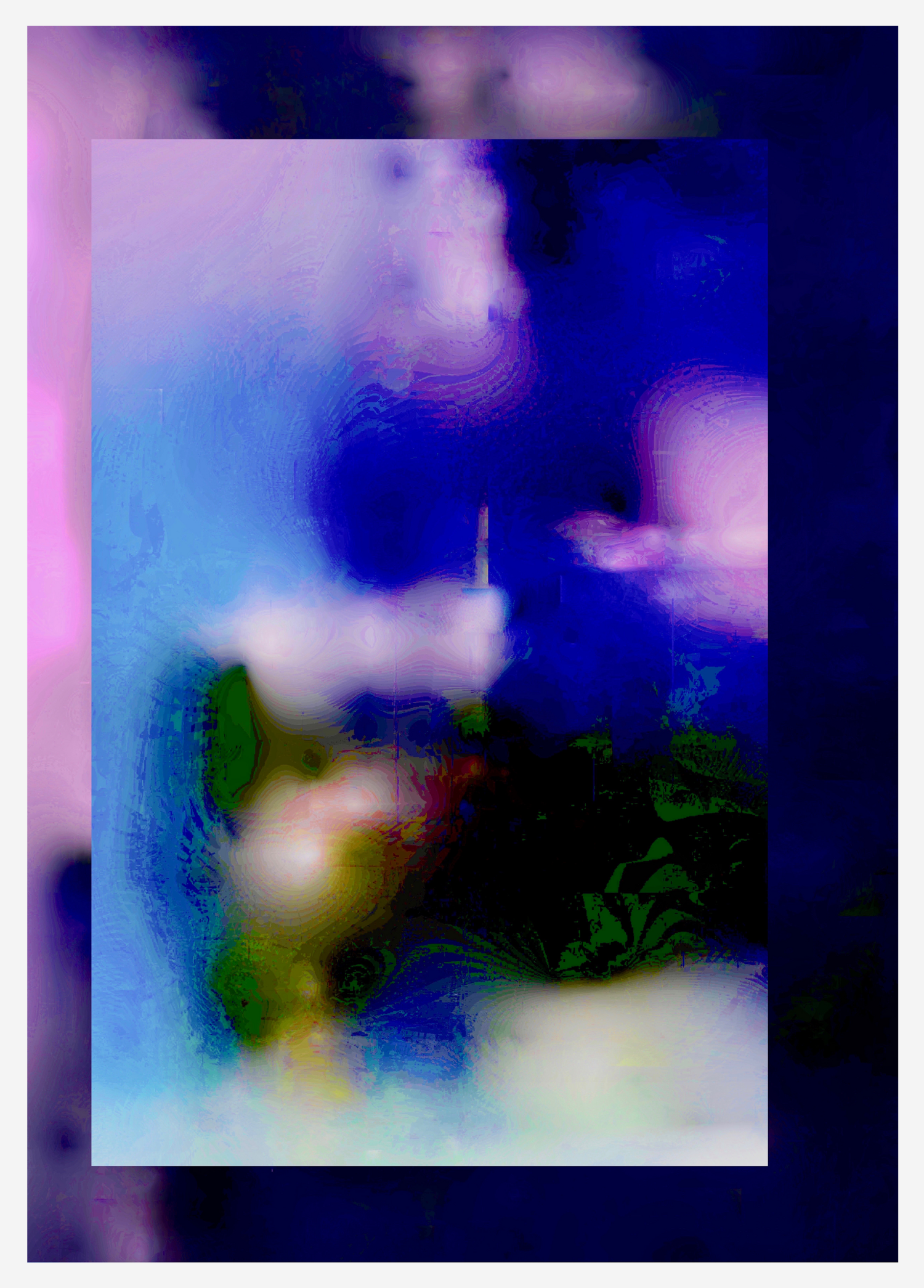 Aaron Scheer
Digital Noise_27, 2021
Pigment ink on archival paper
120 x 86 cm, framed
Unique: 1/1, 1 AP 5.200,00 EUR (incl. VAT)
inquire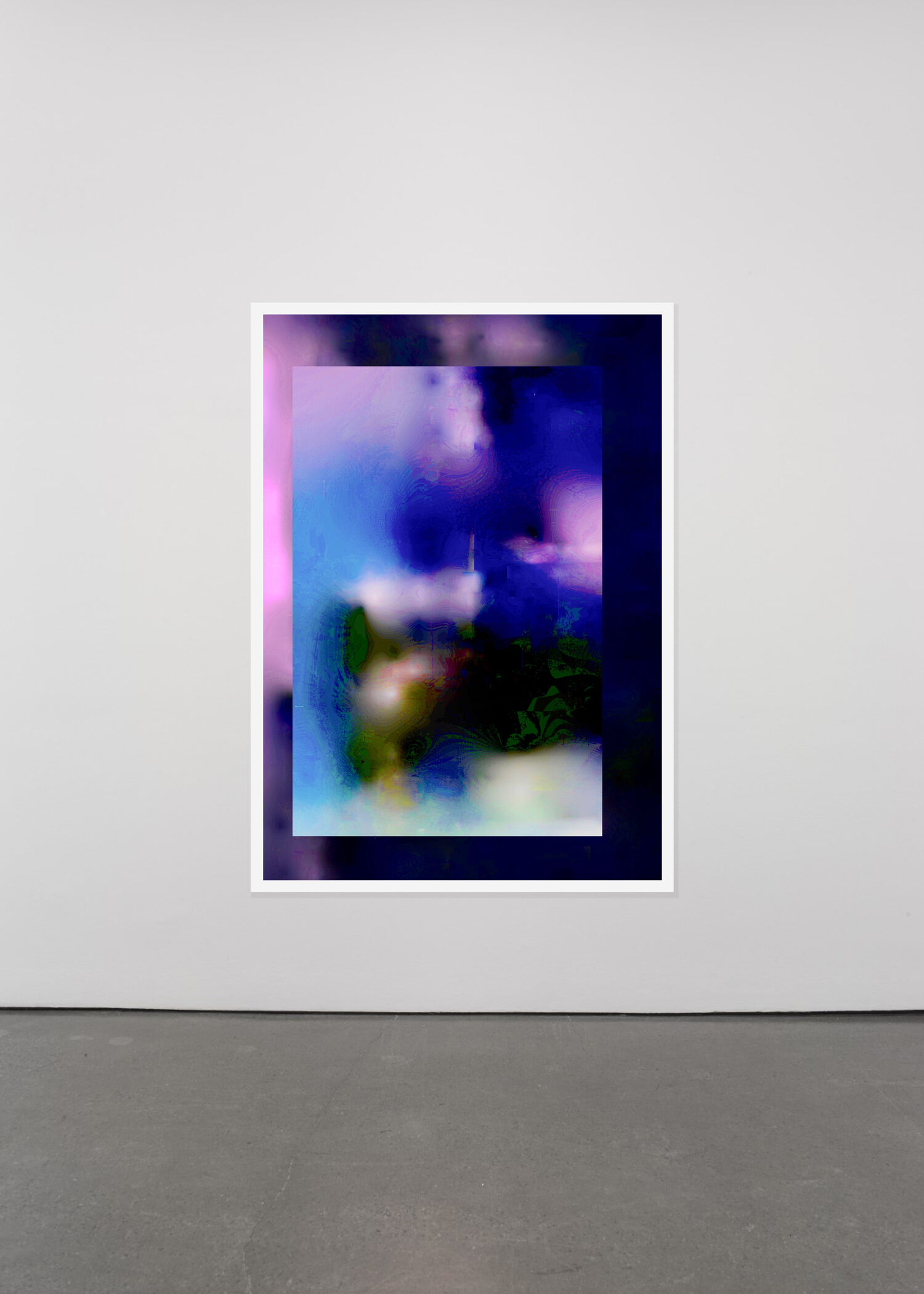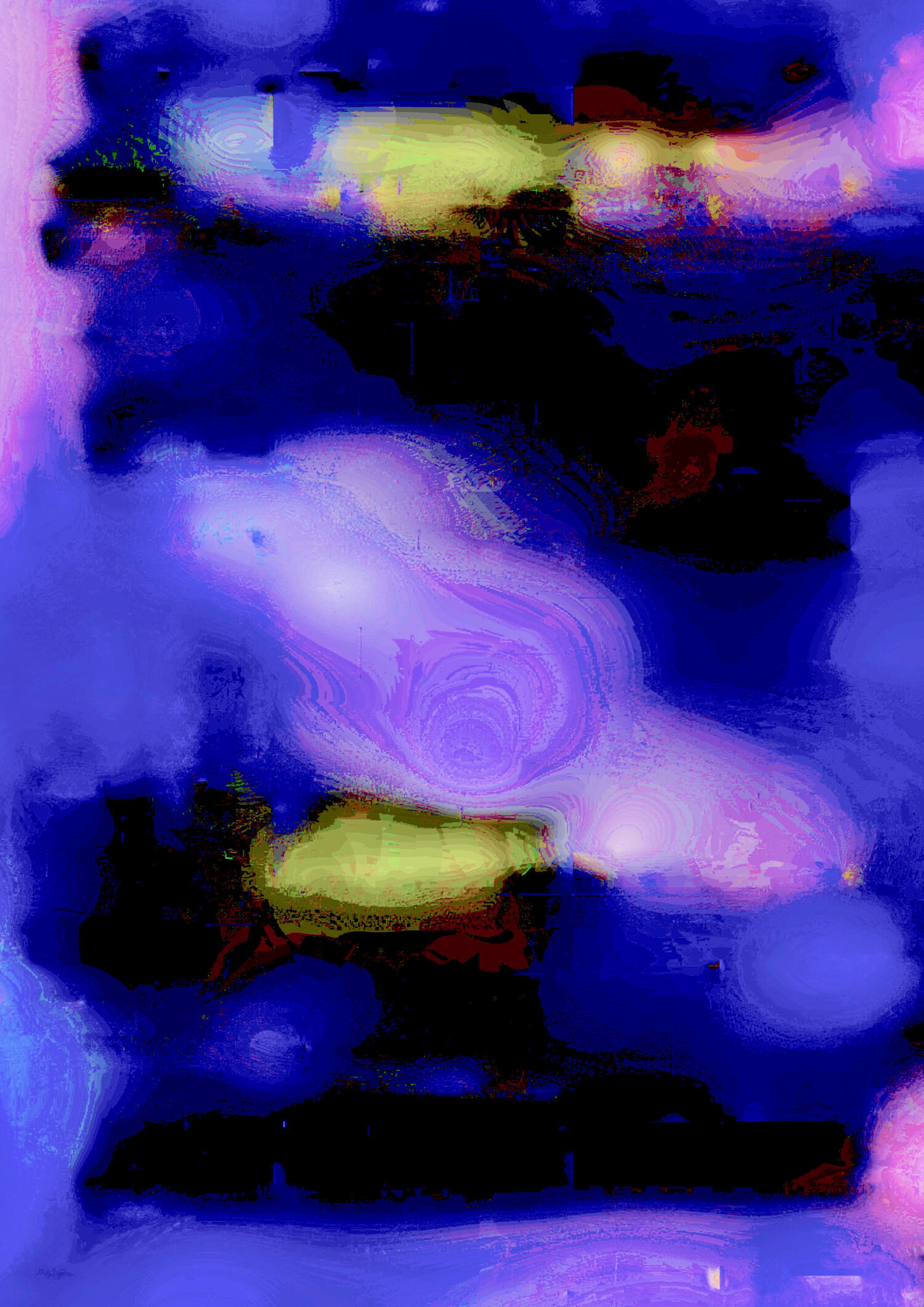 Aaron Scheer
Digital Noise_6, 2021
Pigment ink on archival paper
64 x 47 cm, framed
Unique: 1/1, 1 AP 2.800,00 EUR (incl. VAT)
inquire
"The tension between analogue and digital or between materiality and immateriality is one of my major themes. It is a natural transit from classical contemporary painting with analogue materials to a new contemporary painting with digital materials." – Aaron Scheer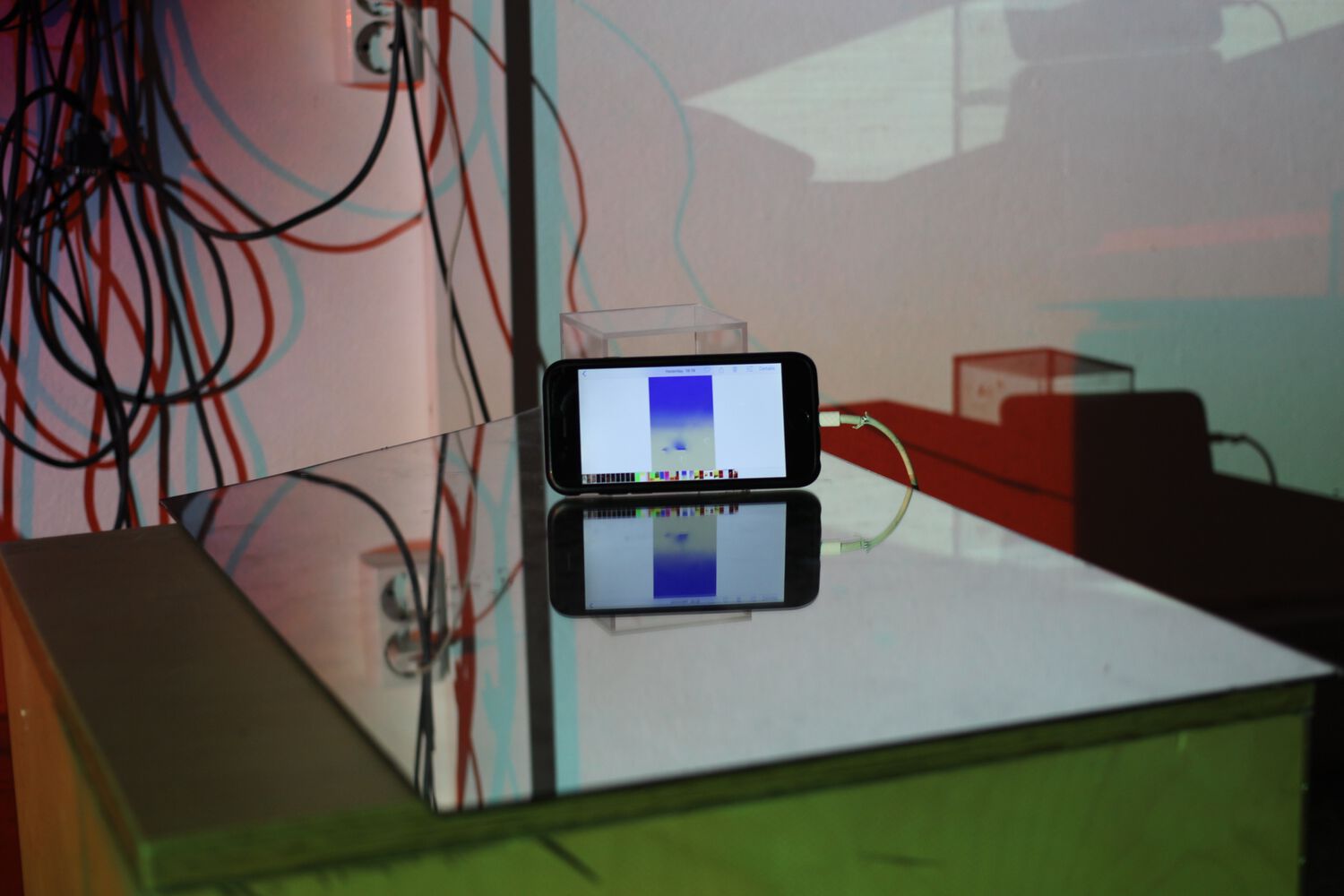 AARON SCHEER

1990 Born in Ahlen, working and living in Berlin
2018 M.Sc. HDK – Academy of Design and Crafts, Gothenburg, Sweden
SELECTED EXHIBITIONS
2022
*solo exhibition, OFFICE IMPART, Berlin, DE (s)
Unlimited Creations, Artemis Gallery, Lisbon, PT
HYPERIMAGE, KunstVerein Ahlen, Ahlen, DE
2021
darktaxa-project: the Paris-constellation, Paris, FR
NFTism: No Fear in Trying, UNIT London, UK
STUDIO BERLIN, a cooperation between Boros Collection and Berghain, Berlin
darktaxa.project – The Berlin-Constellation, OFFICE IMPART together with darktaxa.project, OFFICE IMPART, Berlin
The Artist is Online, KÖNIG Galerie, Berlin / Decentraland, Online
Abstract Art in the Age of New Media, MoCDA Museum of Contemporary Digital Art, Online
2020
Please enter TITLE here, Annka Kultys Gallery, London (s)
Aaron Scheer, OFFICE IMPART, Berlin (s)
Screen time is up, AP artistic positions, Berlin
Flachware, Bark Berlin Gallery, Berlin