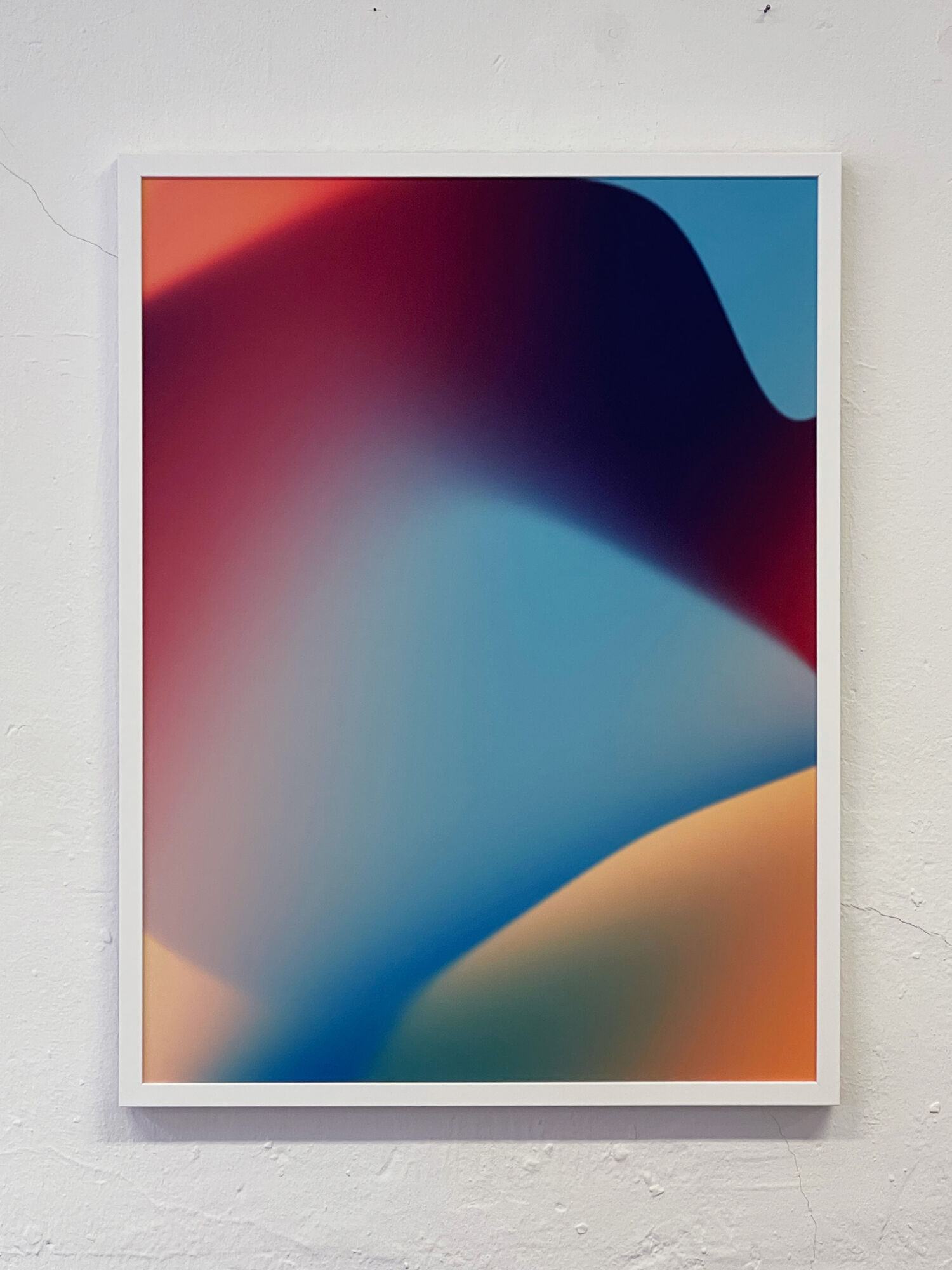 Jonas Lund
No. 6 / 64000 (blue, purple, orange), 2021
Museum-quality giclée print on archival matte paper in a white wooden frame
83 x 63 cm (framed)
Edition of 12 380,00 EUR (incl. VAT)
add to cart
"No. 6 / No. 64000 (blue, purple, orange)" is created through the use of an artificially intelligent neural network that's been inspired by the work of some of the most hyped artists. By using a very rudimentary early javascript implementation of the core concepts of machine learning, the simplicity in the results seem to capture the essence perfectly.
Jonas Lund (*1984, Sweden) creates paintings, sculpture, photography, websites and performances that critically reflect on contemporary networked systems and power structures of control. Through his works, Lund investigates the latest issues generated by the increasing digitalisation of contemporary society like authorship, participation and distribution of agency. At the same time, he questions the mechanisms of the art world; he challenges the production process, authoritative power and art market practices.
Lena Marie Emrich
INFINITY DRIFT NO. 5, 2020
Fine Art Print on Baryta Paper, distance frame (metal black) museums glas
14,5 x 10,8 cm / 42,5 x 32,5 cm (framed)
Edition of 10 450,00 EUR (incl. VAT)
add to cart
For the project "Infinity Drift", Lena Marie Emrich has prepped a tuned vehicle with pigmented tires and asked a stunt driver to drift along an endless loop until the complete wear of the rubber of this hubris put an end. "INFINITY DRIFT NO. 5" shows a detail of the partly black, partly pink tire marks on the asphalt, which are caused by the constant over-rotation of the drive wheels, by the ever-continuing excess of their rotational speed compared to the speed of the vehicle. In the background one can glimpse the location of the performance, an deserted airfield in a rural area east of Berlin.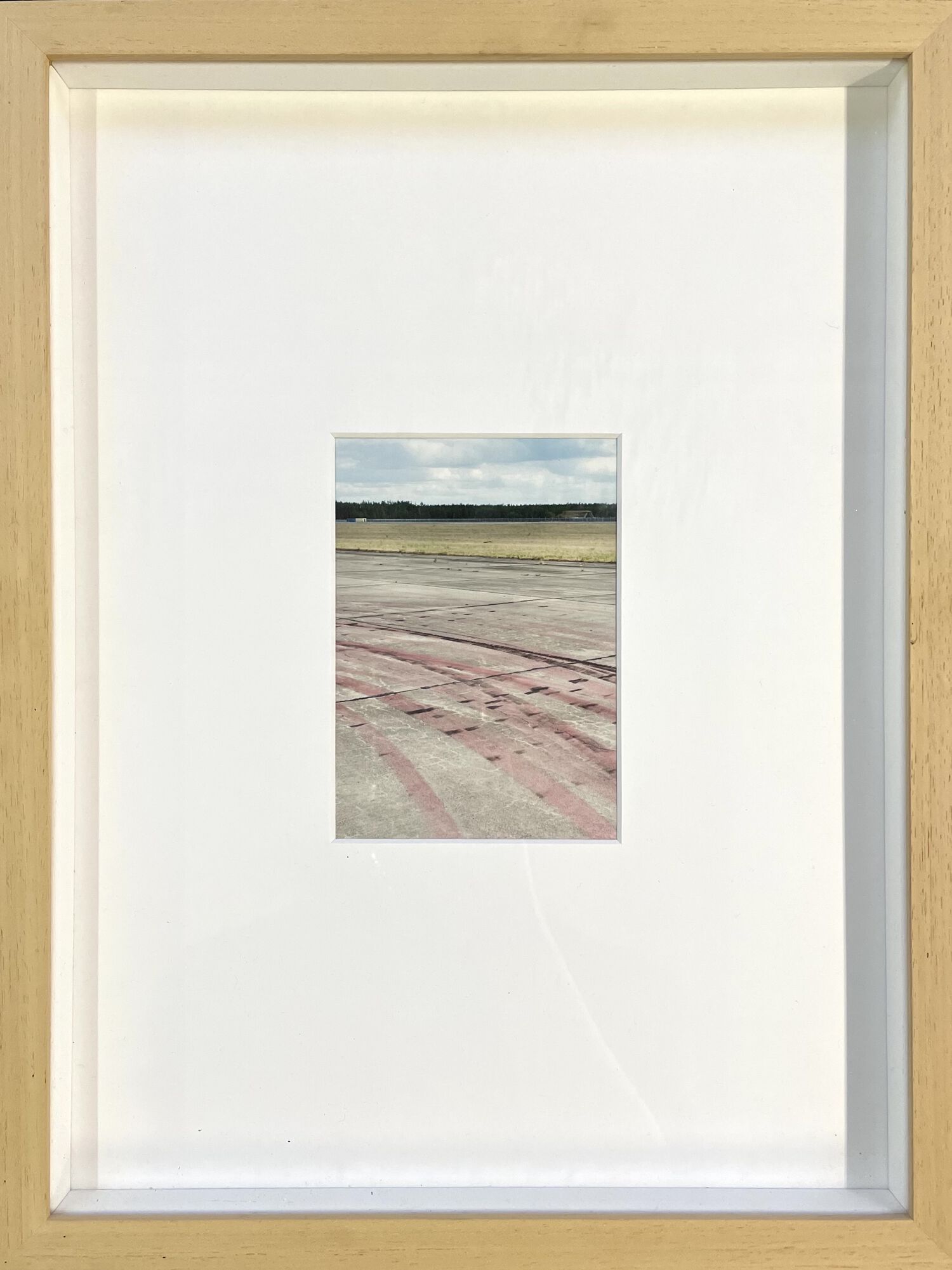 In her work, Lena Marie Emrich (*1991) focuses on the marginal and the social - both topics that are key elements in her artistic practice. Car tuning races, abandoned airports, arenas, hip-hop videos – all these are cultural references that nourish her multidisciplinary practice. Emrich interweaves performance, documentation and sculpture and sheds light on the characteristics of these unique communities. Her works tell of the encounter between supposedly rigid everyday objects and human longings, and conserve them in a simple formal language.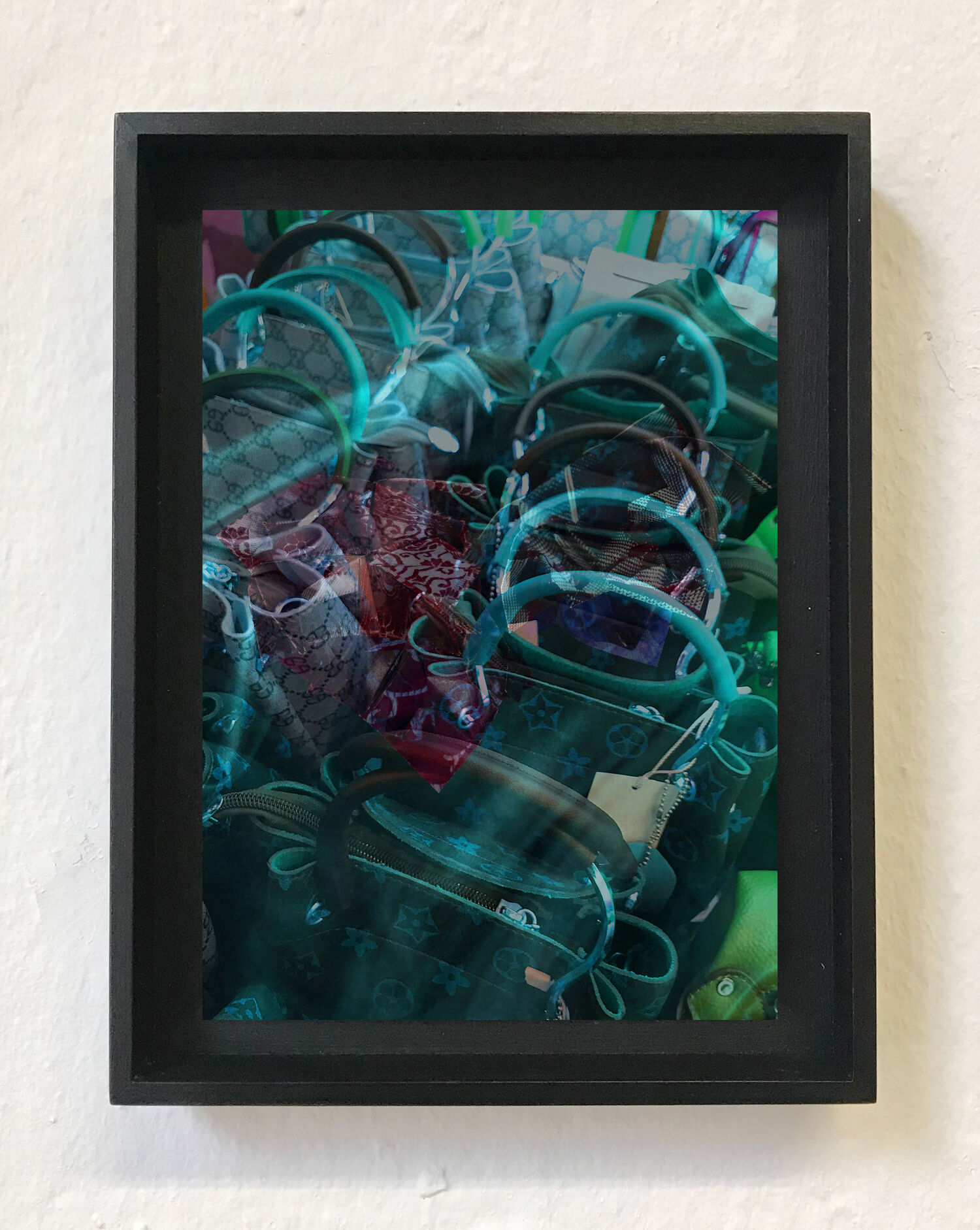 Anna Ehrenstein
A Lotus is A Lotus No 14, 2018
Lenticular print mounted on Acryl
10 x 15 cm (framed)
Edition of 3 380,00 EUR (incl. VAT)
add to cart
"A Lotus is A Lotus No. 14" deals with the embodied manifestation of cultural phenomena in the digital and analogue object. It is a lenticularprint (flip image) which is structured into two image layers consisting of a staged and a documentary photograph., both referring to phenomena of generalization and exotification. The first image layer shows two phoney lotus flowers – Indian textiles have been collected on markets important for textile trade on India's west coast, photographed and manufactured into mass culture objects using Japanese origami-technique. The second image shows a number of fake designer handbags – consumer goods from todays markets catering to foreign tourism in Egypt and China.
"For a person who has never seen the Orient, Nerval said to Gautier, a lotus is still a lotus, for me it is only a kind of onion"
(Quote by Theophile Gautier, referring to the object being defined through reading the relation to the other.)
Aaron Scheer
DaNA_3, 2020
Pigment ink on archival paper
40 x 30 cm (framed)
Edition of 15 280,00 EUR (incl. VAT)
sold
add to cart
"DaNA XVI" is created with Pigment ink on archival paper. To create this digital work on his computer, Scheer uses free form digital gestures, keyboard commands and touchscreen swipes and mimics the use of physical media through various brushes and paint effects. Once completed, the work can be understood as an abstracted version of contemporary digital activities, full of vibrant and vivicolour palettes, redolent with distortions, static and blips that contrast with subtle gradations of luminous colour saturations.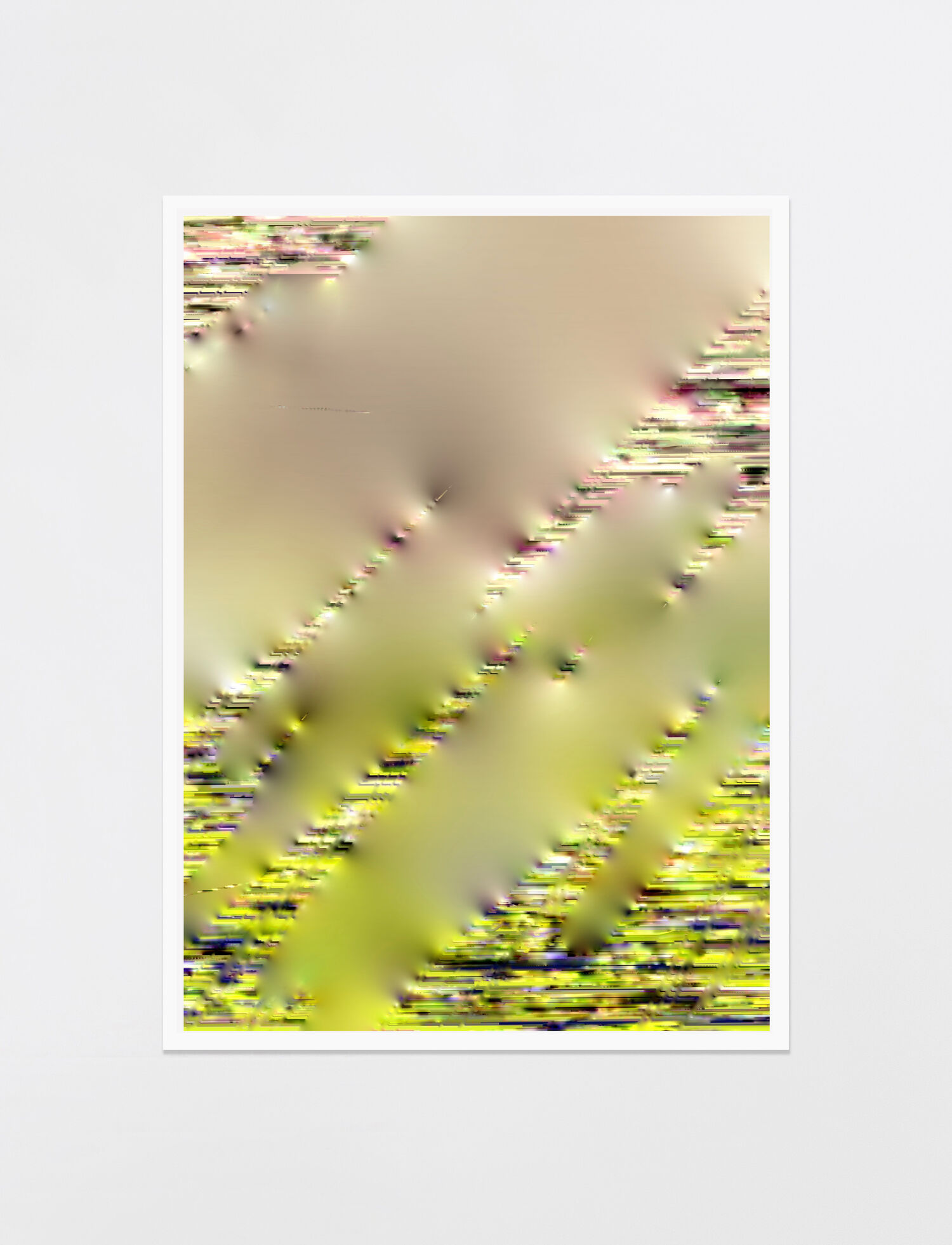 Aaron Scheer (*1990, Germany) creates young, progressive art that exists between the poles of the analogue and the digital. Created on a variety of digital devices, Scheer's works utilise the digital realm to combine elements of collage, photography and painterly technique to expand what painting can be and mean today. The central aim of Scheers artistic process is to find innovative ways to transfer the internet, data, documents, photos and digital information into a new form of painting – which is why his works are often reminiscent of the aesthetics of chaotic data overlays, algorithmic processes or glitches. Through his art, Scheer questions the idea of the human in technology and the technological in the human, thereby allowing him to explore the challenges that an increasingly digitised world presents, such as virtual matter, perceptions of the real, automated production, big data, technocracy and contemporary working cults.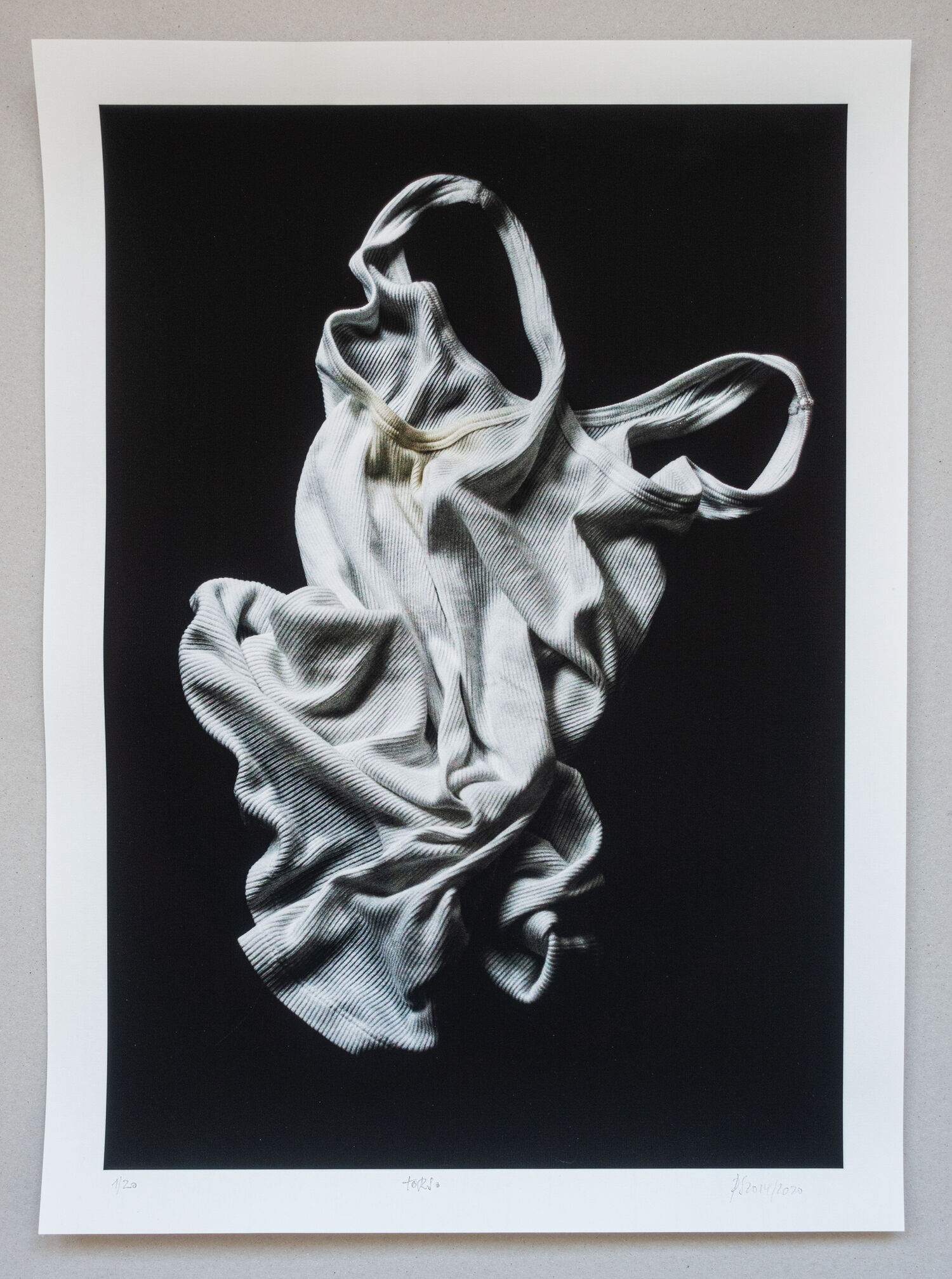 Pola Sieverding
TORSO, 2020
Pigment print on rice paper
48 x 35 cm / 51,4 x 38,6 cm (framed)
Edition of 20 960,00 EUR (incl. VAT)
add to cart
Pola Sieverdings (*19981) artistic work usually consists of photo series and films in which she illuminates traditional views of cultural structures or motives from a different angle. What is particularly fascinating in her works is her compositional approach, in which her photographs refer to references in art history. With photography, video and sound she investigates the physical body as bearer of historical narratives that shape a contemporary discourse on the social body. Her series of the past years build upon each other and it is a great experience to allow oneself to be caught by her gaze, and to let the tension and staging of her works take effect on you.
Susanne Bonowicz
From 10967–12059 / 4, 2020
Acryl, Acrylmarker und Edding
50 x 35 cm (unframed) 540,00 EUR (incl. VAT)
add to cart
In her drawings and paintings, Berlin-based artist Susanne Bonowicz discusses experiences from different metropolises. Using her own observations and memories, her works convey the theme of urbanity in large-scale compositions of architectonical shapes and lines. Memories, sounds, smells as well as visual impressions become the main subjects. Her works evoke constructed color fields, lines and shapes, a color- and form language that describes both the variety and the contrasts of a vibrant and chaotic cityscape. Thereby, the artist constantly refers to nature and deals with the juxtaposition and the mutual interference of culture and nature; a field of tension, which Susanne Bonowicz is exploring throughout all of her works.