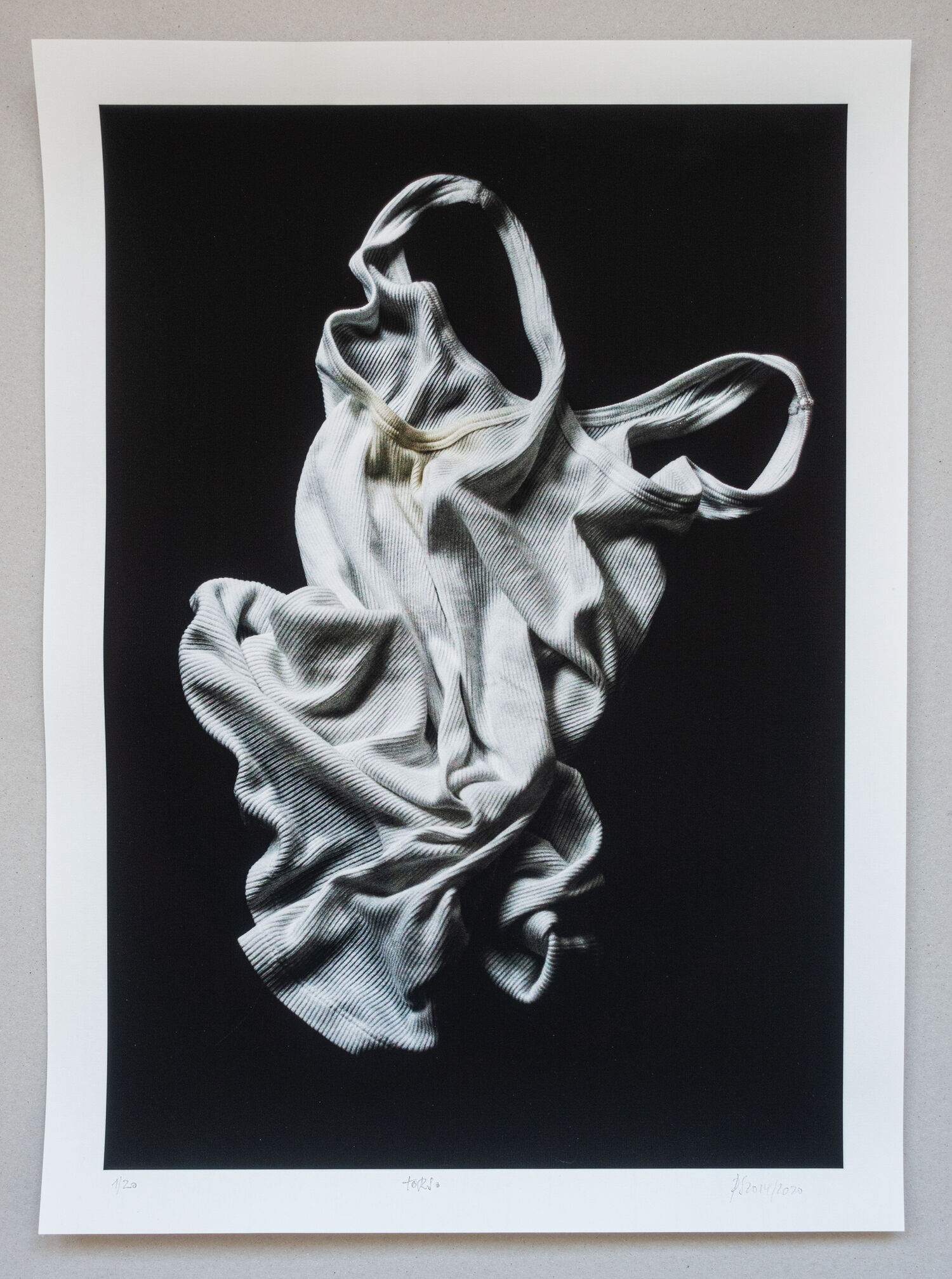 Pola Sieverdings (*1981) artistic work usually consists of photo series and films in which she illuminates traditional views of cultural structures or motives from a different angle. What is particularly fascinating in her works is her compositional approach, in which her photographs refer to references in art history. With photography, video and sound she investigates the physical body as bearer of historical narratives that shape a contemporary discourse on the social body. Her series of the past years build upon each other and it is a great experience to allow oneself to be caught by her gaze, and to let the tension and staging of her works take effect on you.
More works of Pola Sieverding here.
Pola Sieverding
TORSO, 2020
Pigment print on rice paper
48 x 35 cm / 51,4 x 38,6 cm (framed)
Edition of 20 960,00 EUR (incl. VAT)
add to cart
The Bracelet is part of a work series. For "Petrichor" Emrich worked with local artisans to produce wearable sculptures and ornaments inspired by the desert of Agafay. Quotes from the late Algerian poet Malek Alloula alongside fragments of her own poetry can be found in her work, evoking the desert as a space of freedom and vulnerability.« Text by Anais Lellouche
More works of Lena Marie Emrich here.
Lena Marie Emrich
PETRICHOR (BRACELET), 2020
Copper, steel, mouth blown glas
Diameter: 7 cm
Edition of 50 200,00 EUR (incl. VAT)
add to cart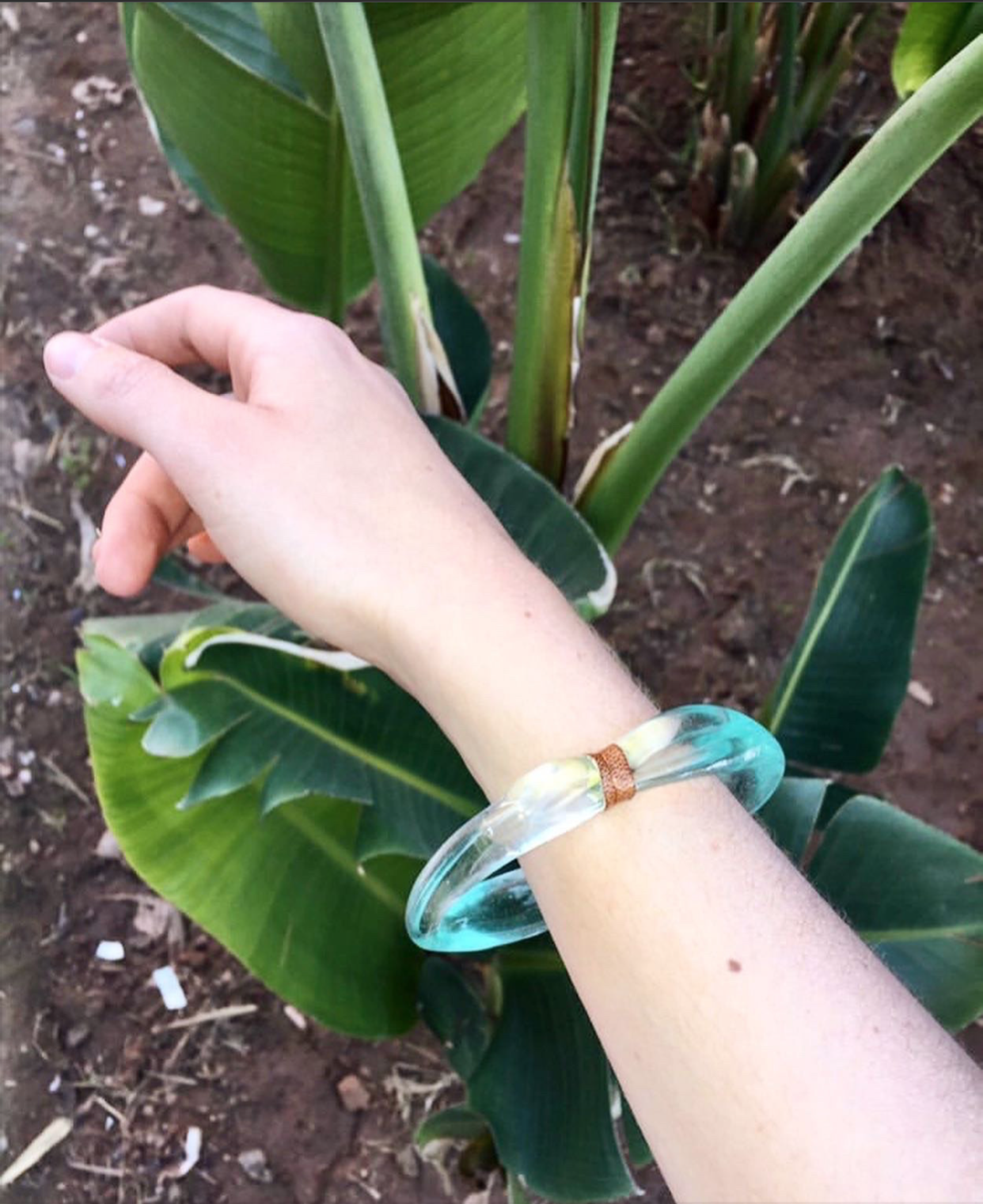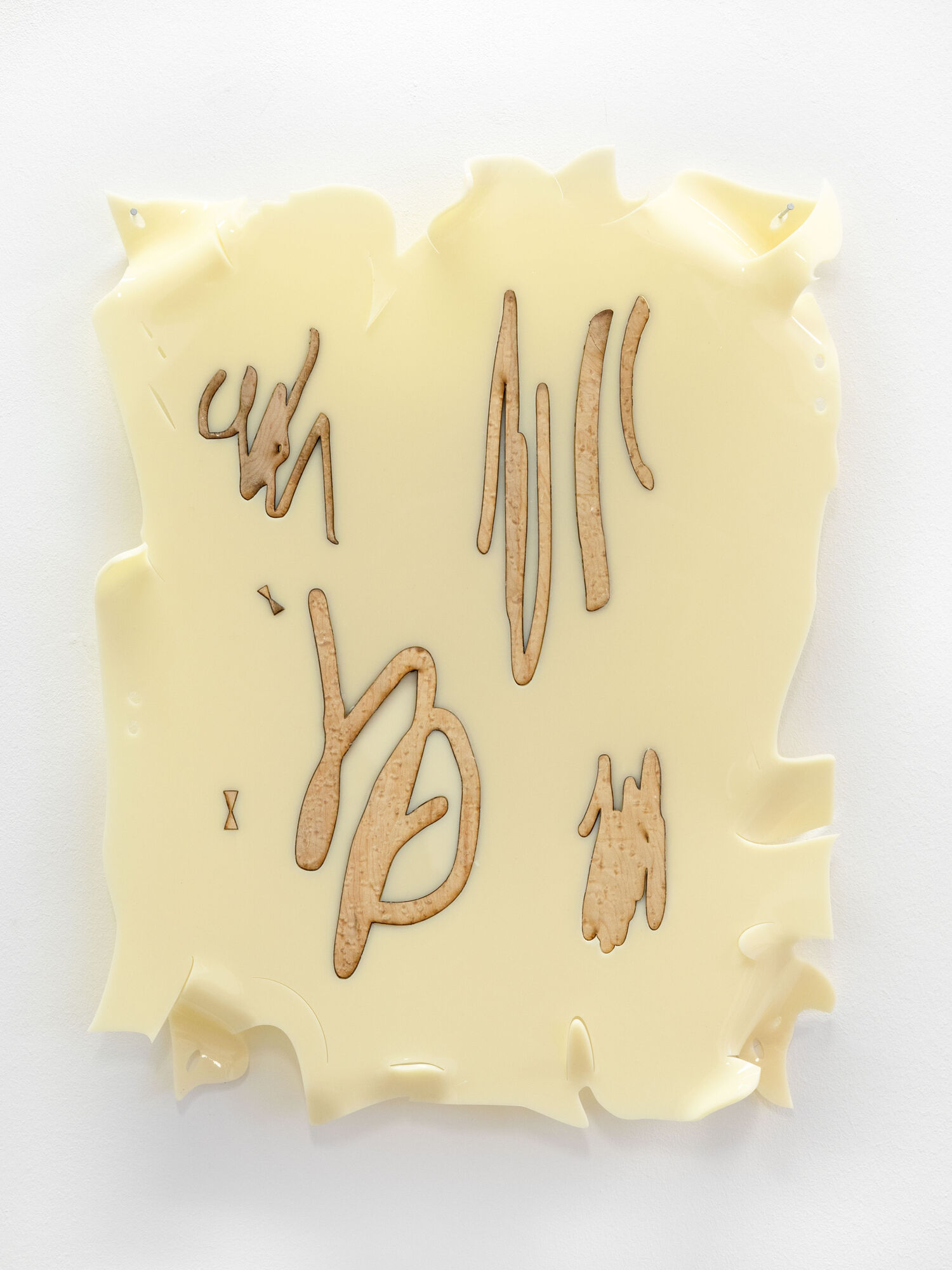 "RSVP, regrets only no 21" is a three-dimensional piece by Hannah Sophie Dunkelberg where she showcases her ability to transform a two-dimensional idea into a three-dimensional object. The image has been drawn with a computer program. It is acrylic glass and birds-eye veneer. The audience is a fundamental part of the sculpture, reflected on its surface. The sculpture seems like it is exploding in all directions, creating the impression of it continuously moving. The swirls immediately catch the viewer's eye due to the contrast the wooden intarsias create on the shiny, off-white background. Dunkelberg reflects our current processes of perception and viewing habits which she thinks are characterized by overlapping and simultaneity.
More works of Hannah Sophie Dunkelberg here.
Hannah Sophie Dunkelberg
RSVP, regrets only no 21, 2021
Acrylic glass, bird's eye veneer
50 x 38 x 6 cm 3.600,00 EUR (incl. VAT)
inquire
Conny Maier
Regen auf Ungenießbar / Dicker Mann in Linz, 2019
Oil pastel, oil pencil, coloured pencil on Davidoff cigarette packet
24 x 10 cm 2.100,00 EUR (incl. VAT)
inquire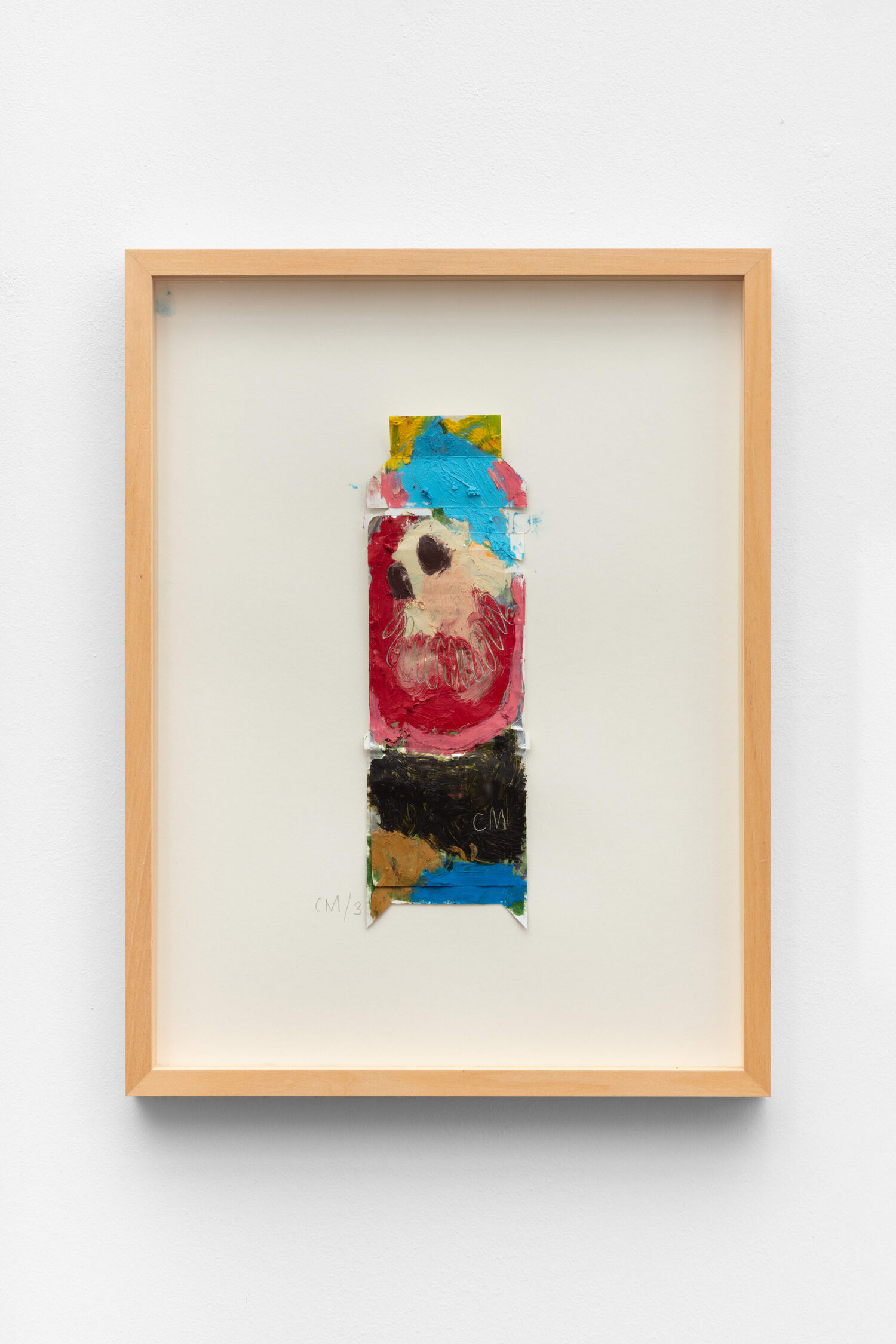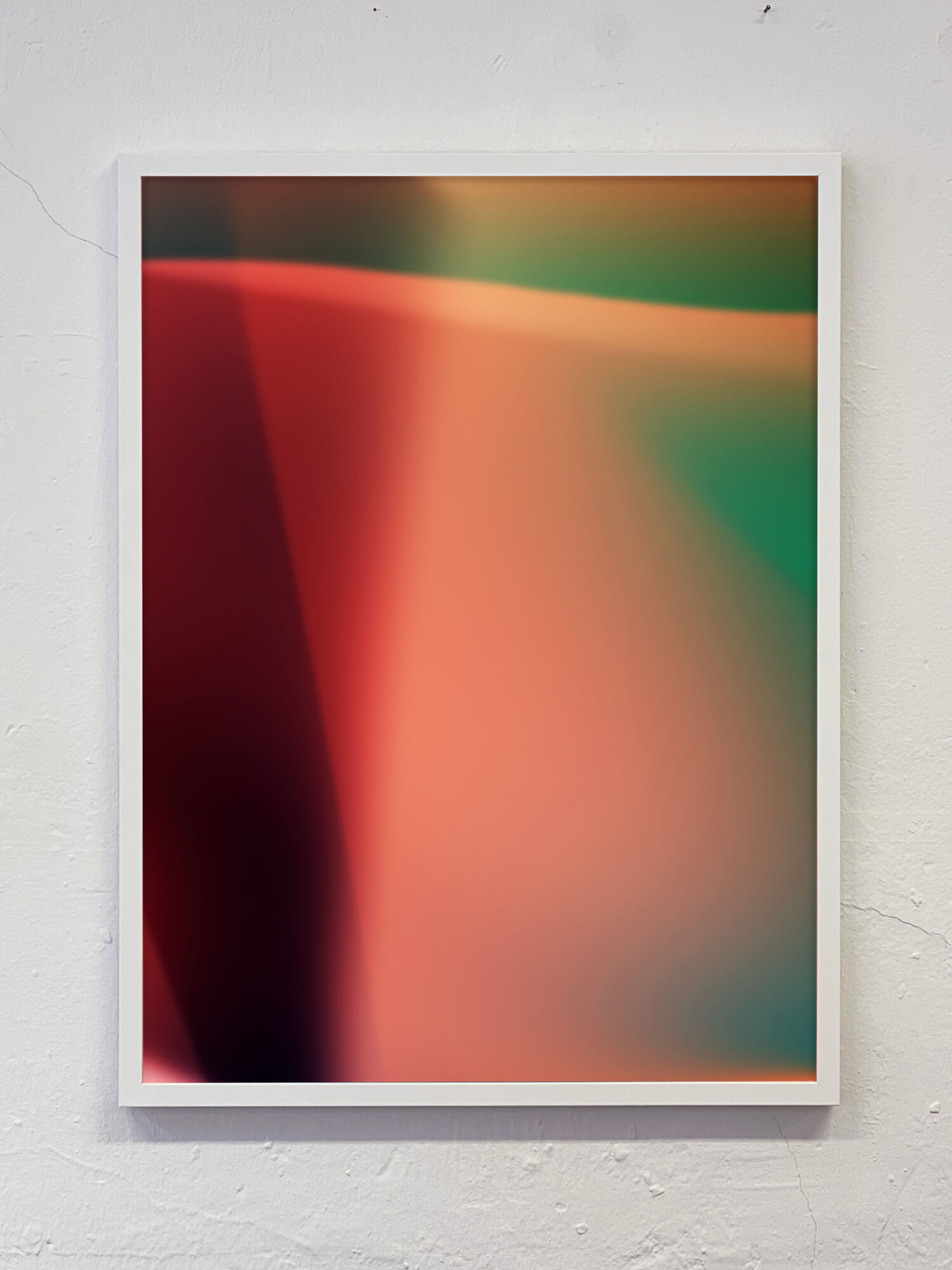 "No. 12 / No. 72000 (green, red, pink)" is created through the use of an artificially intelligent neural network that's been inspired by the work of some of the most hyped artists. By using a very rudimentary early javascript implementation of the core concepts of machine learning, the simplicity in the results seem to capture the essence perfectly.
More works of Jonas Lund here.
Jonas Lund
No. 12 / 72000 (green, red, pink), 2021
Museum-quality giclée print on archival matte paper in a white wooden frame
83 x 63 cm (framed)
Edition of 12 380,00 EUR (incl. VAT)
add to cart
"A Lotus is A Lotus No. 14" deals with the embodied manifestation of cultural phenomena in the digital and analogue object. It is a lenticularprint (flip image) which is structured into two image layers consisting of a staged and a documentary photograph., both referring to phenomena of generalization and exotification. The first image layer shows two phoney lotus flowers – Indian textiles have been collected on markets important for textile trade on India's west coast, photographed and manufactured into mass culture objects using Japanese origami-technique. The second image shows a number of fake designer handbags – consumer goods from todays markets catering to foreign tourism in Egypt and China.
More works of Anna Ehrenstein here.
Anna Ehrenstein
A Lotus is A Lotus No 14, 2018
Lenticular print mounted on Acryl
10 x 15 cm (framed)
Edition of 3 380,00 EUR (incl. VAT)
add to cart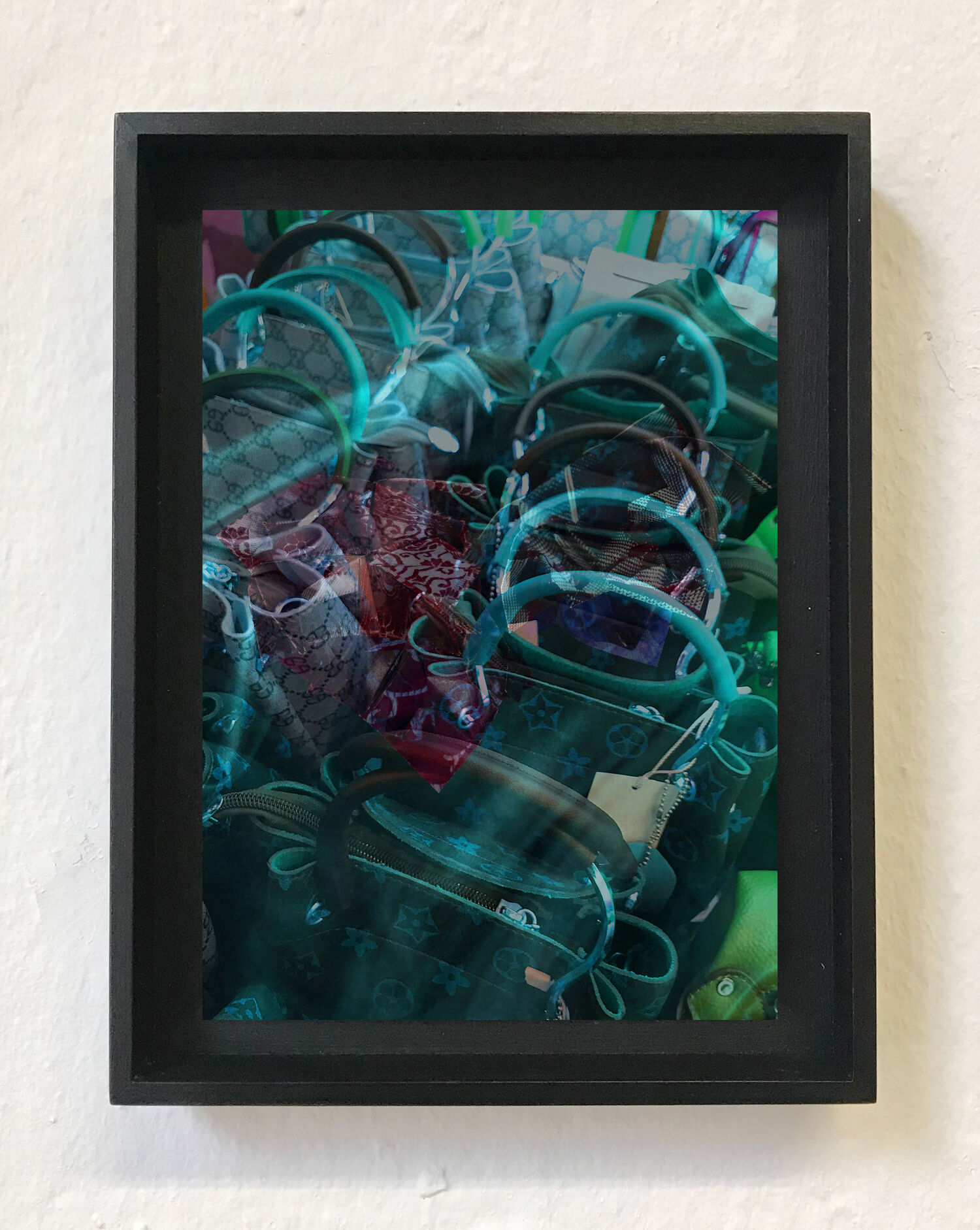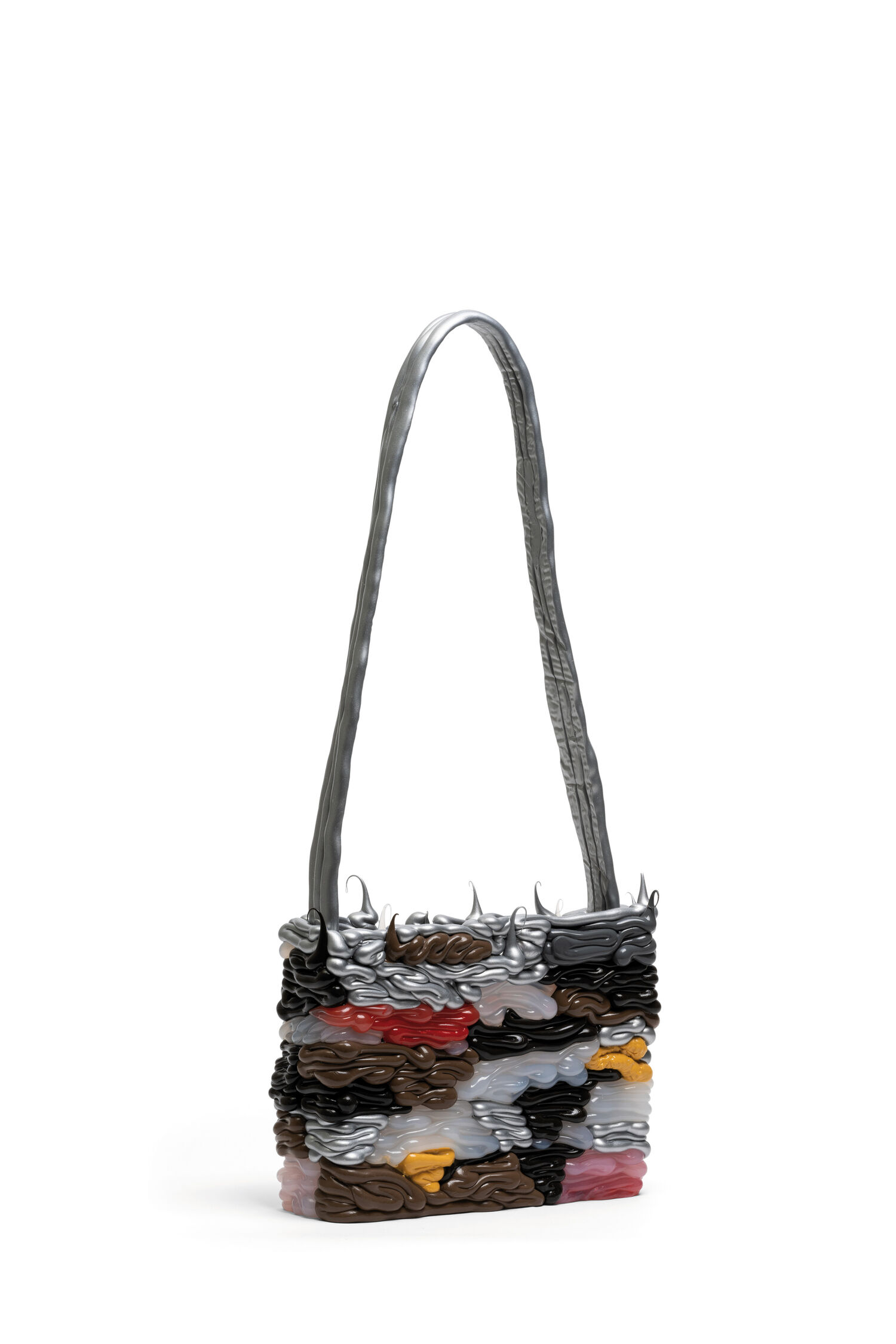 Buck Bags – Dennis Buck's handbag designs use the expansive material fluidity of silicone to successfully blur the boundaries between fashion and art. In their playful, almost naive form, Buck Bags create a kind of vacuum that questions their materiality and intention. The spontaneity of the process of creation is palpable in the peculiarity of silicone and opens up a fictional cosmos that inspires optimism, irony and self-expression beyond fashion.
More works of Dennis Buck here.
Dennis Buck
Speedway Venice, 2020
Size: 20 cm x 25 cm x 9 cm
Strap: 38 cm
100 % Silicon
Handmade 700,00 EUR (incl. VAT)
add to cart
"_Abstract Wall Decal Clock" is created with Pigment ink on archival paper. To create this digital work on his computer, Scheer uses free form digital gestures, keyboard commands and touchscreen swipes and mimics the use of physical media through various brushes and paint effects. Once completed, the work can be understood as an abstracted version of contemporary digital activities, full of vibrant and vivicolour palettes, redolent with distortions, static and blips that contrast with subtle gradations of luminous colour saturations.
More works of Aaron Scheer here.
Aaron Scheer
_Abstract Wall Decal Clock, 2020
Pigment ink on archival paper
51 x 38 cm, framed
Unique: 1/1, 1 AP 2.200,00 EUR (incl. VAT)
inquire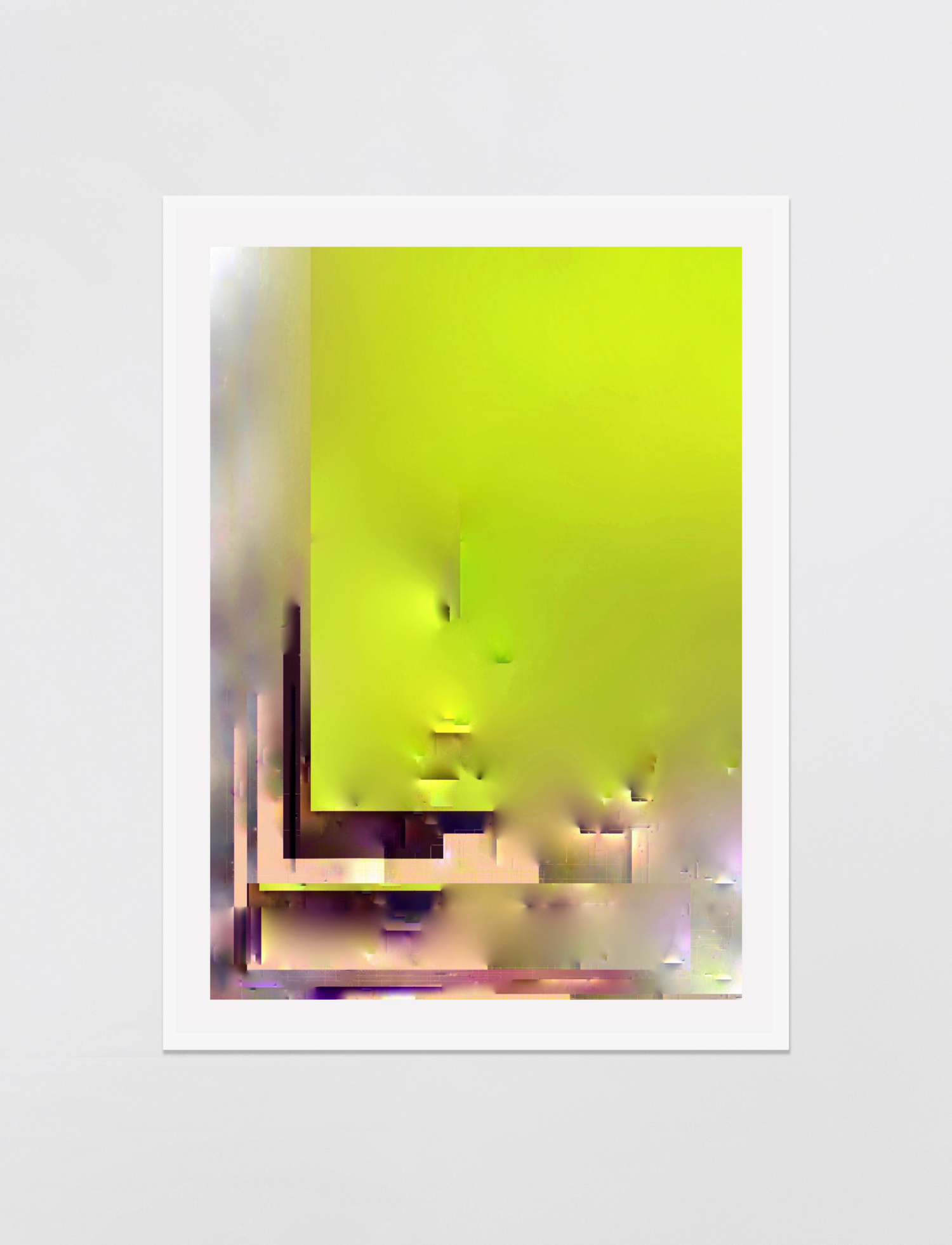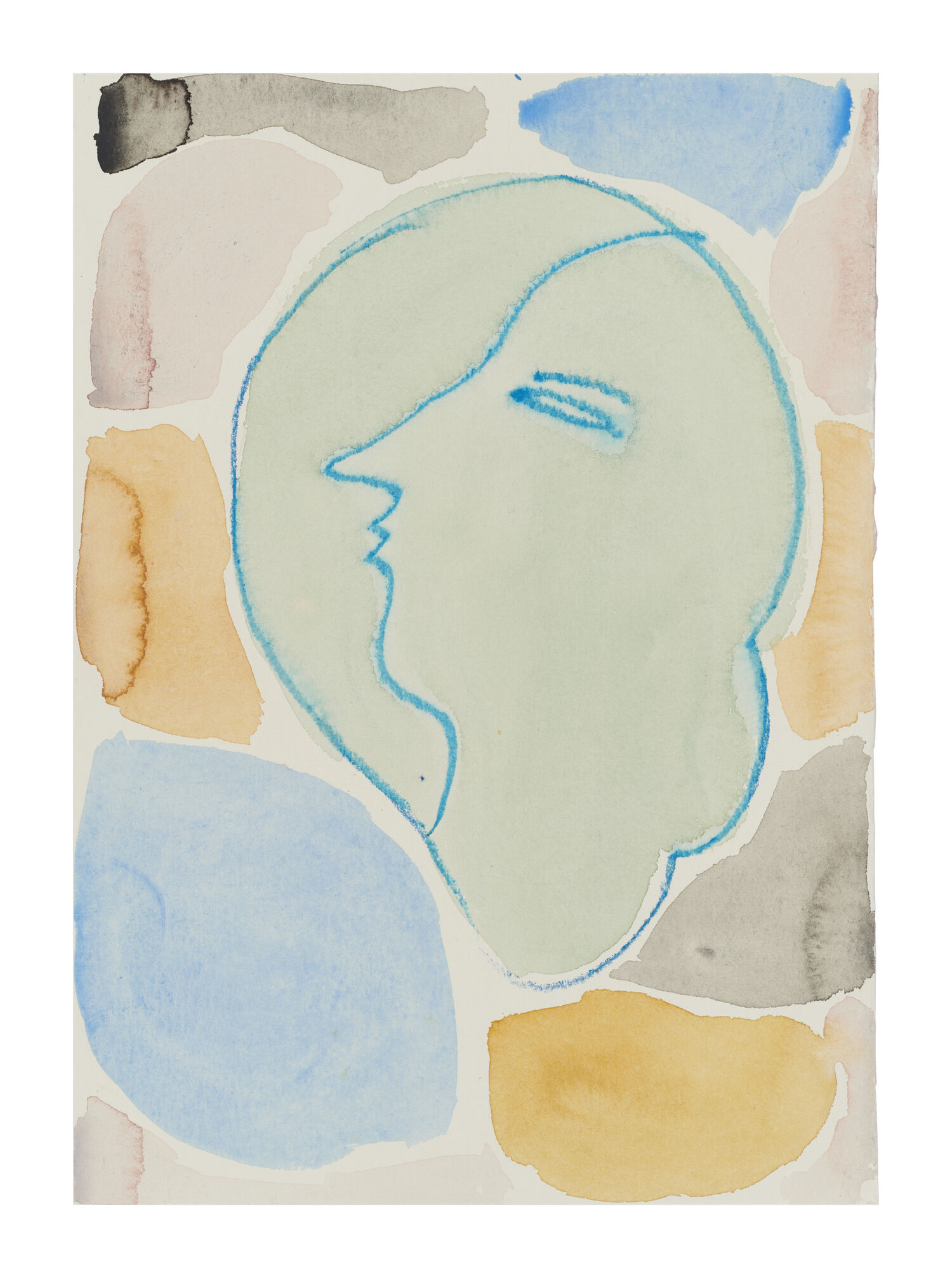 In his artistic work, Benjamin Bernt (*1982) basically deals with the human figure and the fictional portrait. Looking at his drawings and paintings, a play begins between foreground and background, and between color and shapes. Silhouettes of heads or figures can be seen in a line that contrast with those of color fields. It is about capturing the character of people or situations. Most of the time, Bernt tries to surprise himself during his painterly process. His greatest challenge is to capture the fleetingness of the moment. References from art history and literature, but also his own everyday absurdities and psychological states are an integral part of this process.
More works of Benjamin Bernt here.
Benjamin Bernt
Ps_P-3, 2020
Aquarell Pastell auf Papier, gerahmt
30 x 21,5 cm 1.200,00 EUR (incl. VAT)
add to cart
Susanne Bonowicz's paintings narrate of the city as a place of longing. A mostly garish choice of colours and the deliberate juxtaposition of graphic and organic lines and forms create strong contrasts in the interplay, which make the dynamics and chaos of a city tangible.
More works of Susanne Bonowicz here.
Susanne Bonowicz
From 10967–12059 / 4, 2020
Acrylic, acrylic marker and Edding
50 x 35 cm (framed) 600,00 EUR (incl. VAT)
add to cart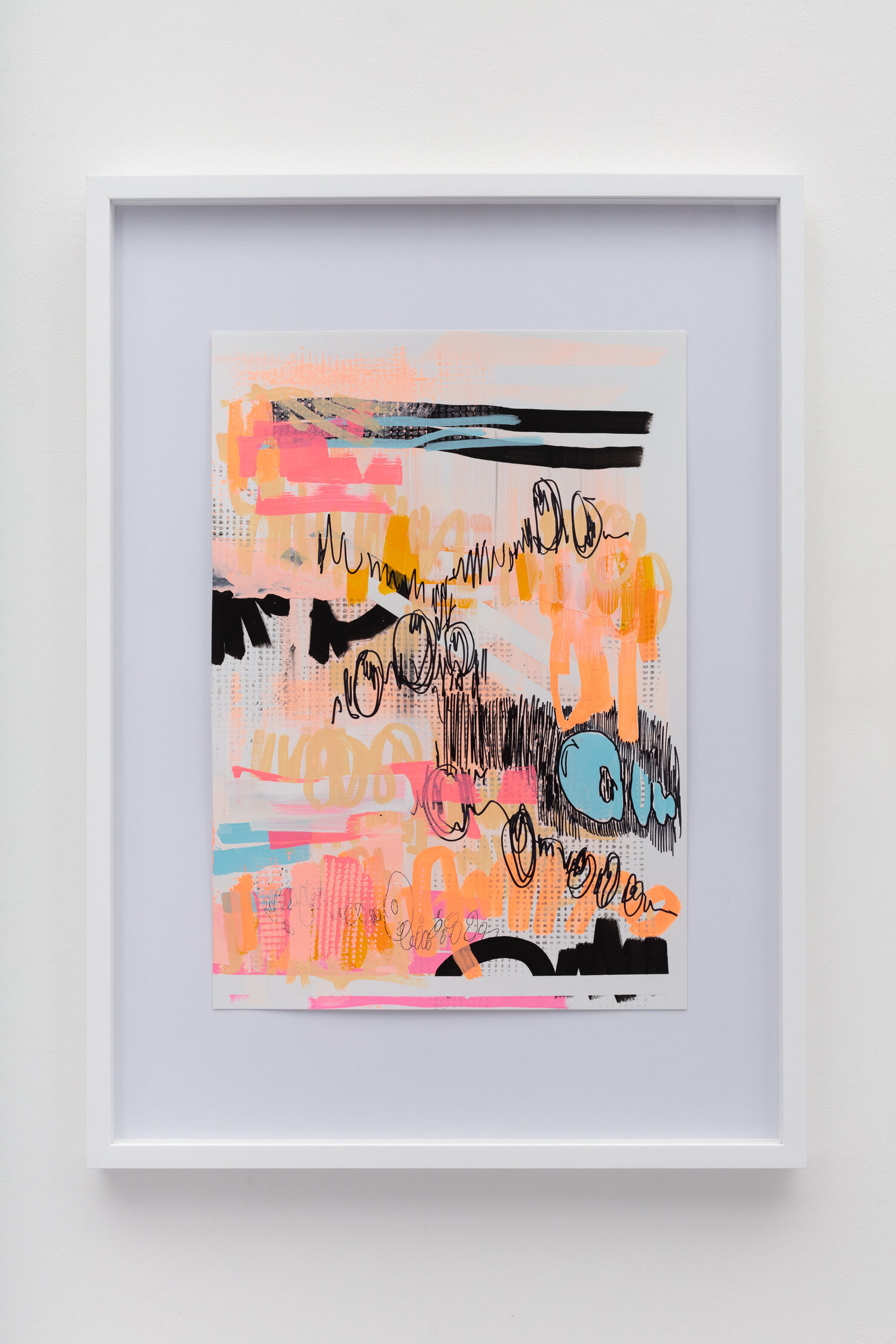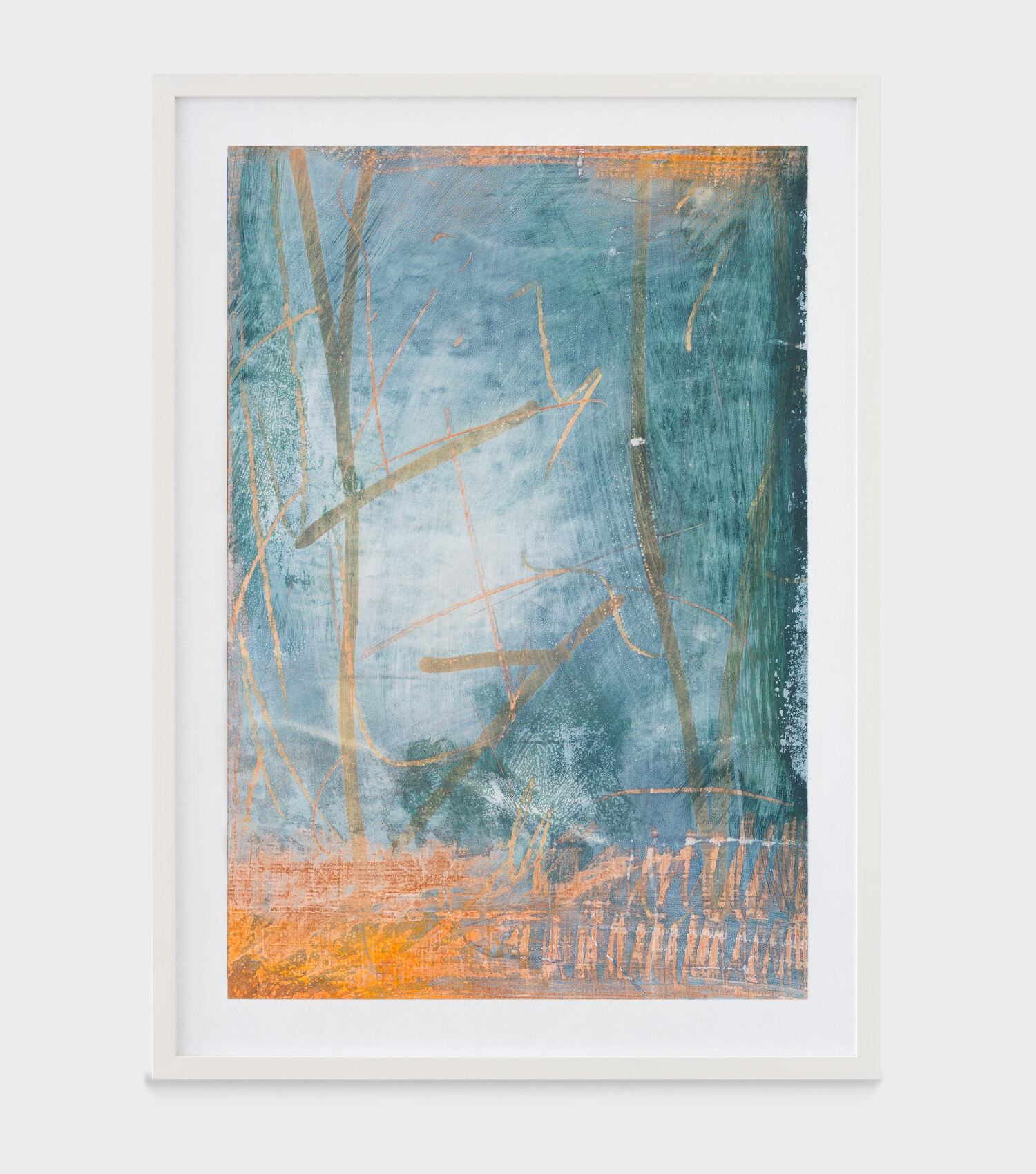 The fact that Christian August's works are based on his past in Street Art and that they are based on painting from the façade onto the canvas is what makes his works so special. He has a unique handwriting, which allows associations up to digital structures. His work is exemplary for the influence of street art on contemporary painting. More works of Christian August here.
Christian August
Insights CA.03, 2021
Monograph on paper
70 x 50 cm, framed 960,00 EUR (incl. VAT)
sold
add to cart